From the white sand beaches of Tigertail Beach to the bustling downtown of Goodland, Marco Island is a prime vacation destination in Florida. Looking for the best resort in this area? Look no further than Marriott's Crystal Shores. With large stretches of white sand, magnificent views of the Gulf of Mexico, and breathtaking sunsets that light up the sky, Marriott's Crystal Shores stands out among Florida's Gulf Coast resorts. But that's just the beginning of what this wonderful timeshare has to offer. Keep reading to learn more about the accommodation, amenities, dining options, and nearby attractions.
Marriott's Crystal Shores Accommodations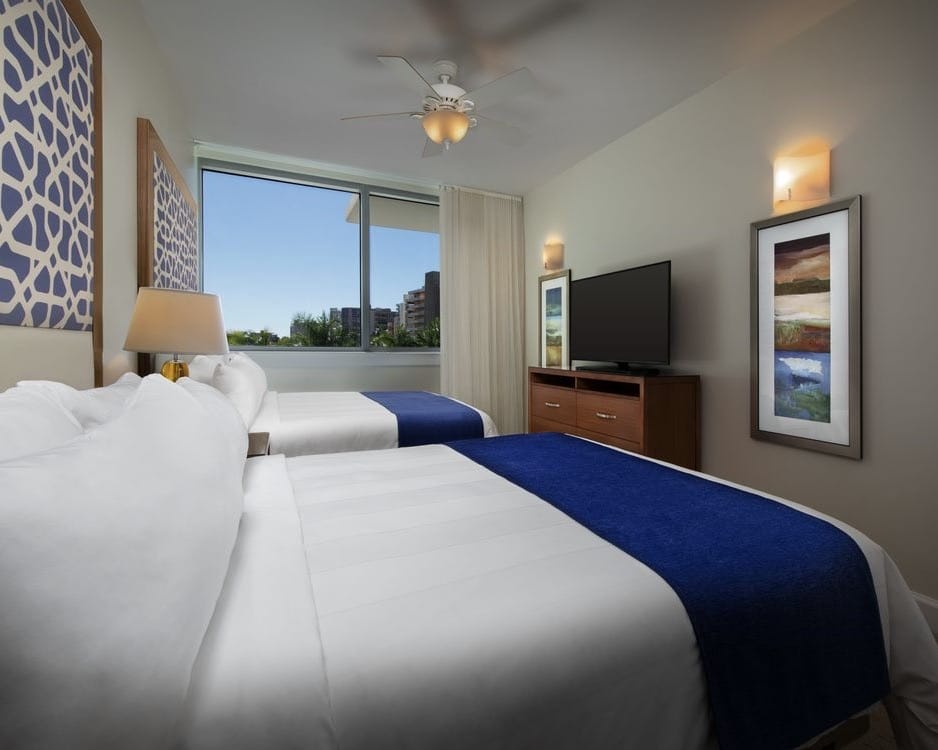 Marriott's Crystal Shores On Marco Island offers luxurious and spacious accommodations in their two- and three-bedroom villas. Each unit is divided into separate living, sleeping, and dining areas to cater to your every need. This ensures that every guest has enough space to relax and unwind, with plenty of room for entertainment.
The villas are fully furnished and equipped with everything you need. Space and comfort are key features of the living and dining rooms, making them ideal for spending time with loved ones. Full kitchens allow visitors to prepare meals easily, so groups and families can cook together. Additionally, the villas come with an in-unit washer and dryer, providing flexibility for guests who want to pack light.
One of the standout features of the villas is the private furnished balconies that offer breathtaking views of the Gulf of Mexico. Guests can sip their morning coffee while enjoying the fresh ocean breeze or watch the sunset while relaxing on their balcony. Overall, Marriott's Crystal Shores offers an ideal vacation destination for those looking for luxurious and spacious accommodations on Marco Island.
Below is a breakdown of each accommodation style:
Unit
Sleep Capacity
Amenities
Two-Bedroom Villa
8 Guests Max
1330 sq. ft.
1 King Bed
2 Queen Beds
1 Sofa Bed
2 Bath
Three-Bedroom Villa
10 Guests Max
1480 sq. ft.
2 King Beds
2 Queen Beds
1 Sofa Bed
3 Baths
Three-Bedroom Penthouse Suite
10 Guests Max
1710 sq. ft.
2 King Beds
2 Queen Beds
1 Sofa Bed
3 Baths
Marriott's Crystal Shores Amenities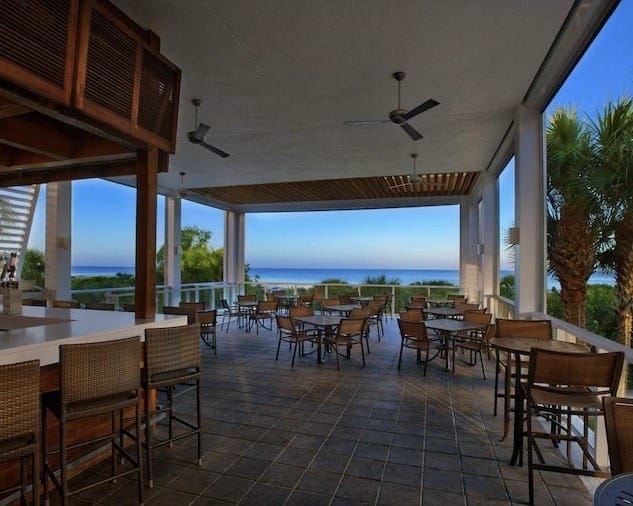 Marriott's Crystal Shores is the perfect destination for those looking to enjoy a variety of amenities and activities during their stay. Families will love the kid-friendly waterslide and heated outdoor pools, which provide endless hours of fun and entertainment for children and adults alike.
For those looking to stay active during their vacation, the resort offers a well-equipped gym and access to beautiful Gulf Shores Beach for a leisurely stroll or a refreshing jog. Three whirlpool hot tubs are available, offering a relaxing and soothing experience for those who want to unwind and destress. The resort features an open-air lobby that welcomes guests with its tropical ambiance and stunning views of the surrounding landscape.
For those looking for more options, Marco Island Marriott Beach Resort is within walking distance of the timeshare. Guests can enjoy spa treatments, play golf, and indulge in a wide range of dining options at the beach resort.
Below, you can see a full list of Marriott's Crystal Shores' amenities:
Restaurant
Fitness Center
Outdoor Pool
Activities for Kids
Beach Access
Convenience Store
Dry Cleaning Service
Laundry
Kitchen
Wake up Calls
Dining Options at Marriott's Crystal Shores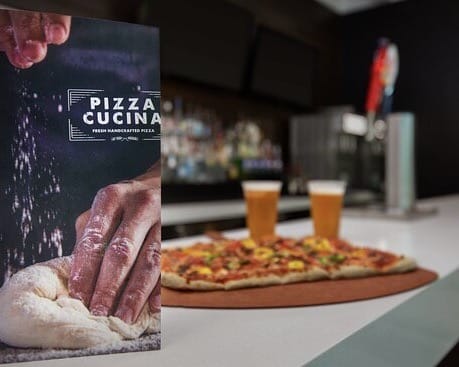 Delight your taste buds with seaside dining and artisanal pizzas at Marriott's Crystal Shores restaurants! Guests will enjoy the ultimate culinary experience at Stilts Beachside Bar & Grill. You can sip a cocktail here while soaking in the stunning Gulf of Mexico views. Stilts Beachside Bar & Grill menu items include chicken spinach salad, grouper tacos, shrimp tacos, deluxe burgers, and more.
For a more casual setting, Pizza Cucina offers handcrafted, made-to-order pizzas with your choice of ingredients, paired perfectly with a refreshing cocktail or beer from the bar. In addition to pizza, this restaurant has cold subs, salads, burgers, wings, and more. After a beach day, you can't go wrong with these tasty restaurants.
Nearby Attractions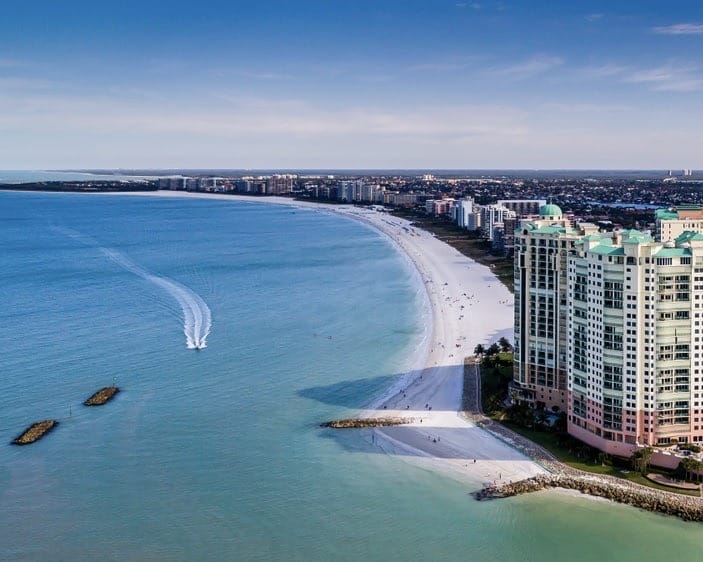 With its prime location, Marriott's Crystal Shores offers easy access to all of Marco Island's top attractions. Visitors can explore the 10,000 Islands National Wildlife Refuge and participate in various water activities. Marco Island is also home to a wide range of dining, shopping, and entertainment options.
Explore the natural beauty of the Florida Everglades or get up close and personal with the wildlife at the Naples Zoo. For the more adventurous, try your hand at kayaking to the nearby islands, fishing in the Gulf of Mexico, or exploring the Briggs Boardwalk Nature Center. Whether you're looking for a relaxing getaway or an action-packed vacation, Marco Island has something for every type of traveler.
Read more: Top 10 Marriott Vacation Club Florida Locations to Visit in 2023!
About Marriott Vacation Club
Timeshare brands like Marriott Vacation Club are among the most popular in the hospitality industry. As one of the first major lodging companies to offer vacation ownership to its loyal customers, Marriott entered the timeshare industry in 1984. Marriott timeshare ownership offers hundreds of benefits under the Marriott Vacations Worldwide umbrella.
Marriott Vacation Club offers over 60 properties in ten countries. Additionally, Marriott timeshare owners have access to J.W. Marriott, Ritz Carlton, St. Regis, W Hotels, Sheraton, Westin, and more. Not to mention, Marriott Vacation Club is also affiliated with Interval International, one of the largest vacation exchange platforms. Owners of Marriott timeshares can use points to book guided tours, cruises, safaris, and private homes.
Read more: 10 Best Marriott Vacation Club Resorts You Should Visit!
Buy a Marriott Timeshare Resale
Over 400,000 Marriott vacation owners have come to know and love Marriott for its superior accommodations. You can become an owner today at a fraction of the price by buying a timeshare resale. We have timeshares for sale at Marriott's Crystal Shore and other top Marriott timeshares. Click the button below to start exploring our marketplace. Have any questions? Give us a call today at 1-800-610-2734 or email us at info@timesharesonly.com.
Rent Out or Sell Your Marriott's Crystal Shores Timeshare
Our Timeshares Only team understands that owners sometimes need to sell their Marriott timeshares or rent out their timeshares. We are here to help you create an ad that will be seen by my vacationers worldwide. Start the process today by contacting us at 1-800-610-2734 or info@timesharesonly.com. In addition, if you have any questions, we'd love to help!