Can't use your Wyndham timeshare this year? Want to rent out your timeshare but don't know how? Don't fret. We are going to help you understand the renting process and answer questions like "how to rent out my Wyndham timeshare." We will also provide step-by-step instructions on how to list your timeshare and set the rental rate.
Steps On How to Rent Out My Wyndham Timeshare
Renting your timeshare might be a good option for a number of reasons. Maybe you won't need it this year, and you don't want to waste the reservation. In addition to the timeshare being put to proper use, it also helps to cover some of your maintenance fees for the year. Any amount helps if you're struggling to make payments, even if you can't cover the whole fee. Our online marketplace can help you get your timeshare unit in front of many potential renters if you're considering renting it this year.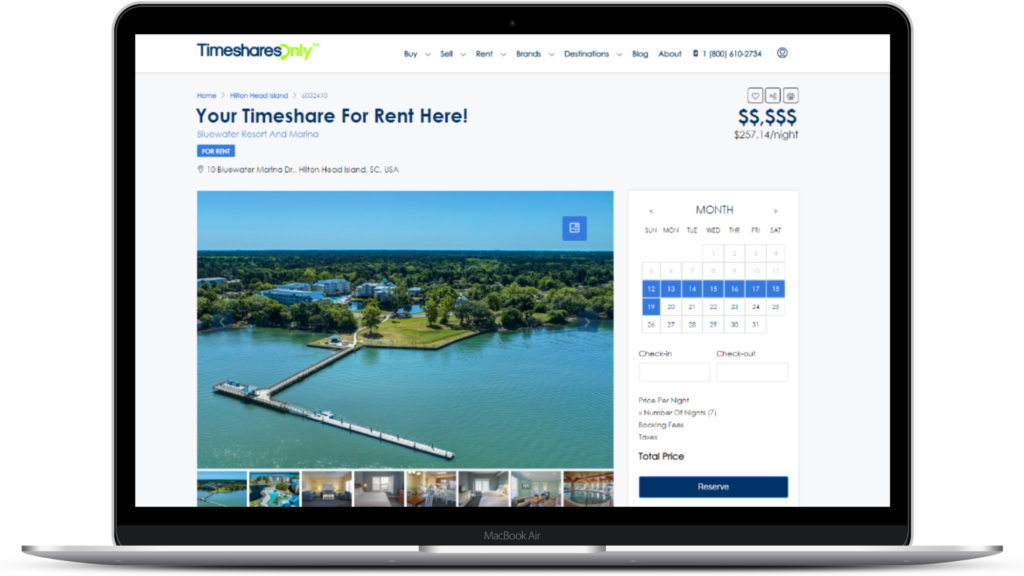 Some resorts require owners to be present at check-in, so it is imperative to make sure you are allowed to do so. If your resort allows you to rent, your maintenance fees and loan payments are current; then you can rent your timeshare.
Are you ready to rent out your Wyndham timeshare? It's easy to advertise your timeshare. There are only a few steps to follow:
Ensure that your Wyndham timeshare is allowed to be used by guests by checking with your developer.
Select a price and date for fixed week timeshare, this is easy, but for points timeshare, you might want to consider renting all of your points or booking during the peak vacation season.
Contact one of our Rental Experts, and we will create your ad so we can start finding renters. Give us a call at 1-800-610-2734 or email us at info@timesharesonly.com!
How it Works
When you are ready to rent out your Wyndham timeshare, we will create an online listing that will be seen by potential renters on a variety of platforms, including social media, search engines, and more. The ad will include all the necessary information, such as the price, photos, and amenities of the resort, as well as any other details you'd like to include. This will maximize your chances of finding the right renter for your timeshare. We will be actively promoting your listing to current and prospective renters.
You will be notified as soon as someone requests to rent your timeshare week or points. Our team will usually contact you to confirm that your week is still available and you still want to rent it. After that, you'll need to contact your resort and let them know someone will be checking in for your reservation. That's all there is to it! It is like letting a guest use your timeshare. The process is very simple and straightforward, so you don't have to worry about any confusion or complications.
Q&A Renting Out My Wyndham Timeshare
Can I Rent My Timeshare?
The question "can I rent out my Wyndham timeshare?" is frequently asked by timeshare owners. Yes, in most cases. A marketplace such as Timeshares Only will allow most timeshare owners to rent out their weeks and points safely. Timeshares Only provide a secure platform for owners to list their timeshares for rent and for renters to book a timeshare safely and avoid timeshare scam. They also have a team of customer service representatives who are available to answer any questions and provide assistance throughout the process.
How to Set The Price
When renting out your Wyndham timeshare, you are in charge of setting the price. Ultimately, it comes down to what you are willing to accept. It is recommended that you price it competitively. This means researching similar options and pricing your ad accordingly. Do not worry if you are having trouble. To help you make the best decision, our rentals team can also conduct research for you. The final price, however, is completely up to you! You will also be paid securely for your rental by our team. Timeshare vacation renters usually receive their money after the vacation is over.
How Long is the Process?
When we have all the required information, posting your rental takes less than a few days. In case you're wondering how long it will take to find a renter, it varies. In order to reach the right people, we do our part to advertise. Rentals of timeshares in tropical locations are often requested. We have a market of "tenants" who repeatedly rent from us. The marketing team at our company is top-of-the-line, and they know how to reach prospective renters. As soon as you begin renting your timeshare, you can relax.