While you may think the best vacation clubs include top hospitality brands like Marriott and Hilton, there's one that will set your vacations apart. Coast to Coast RV Resorts could be the new way to travel, with privacy and nature at your doorstep. If traditional resorts aren't what you're after, we'll show you all of the benefits that Coast to Coast Resorts can offer.
What is Coast to Coast Resorts?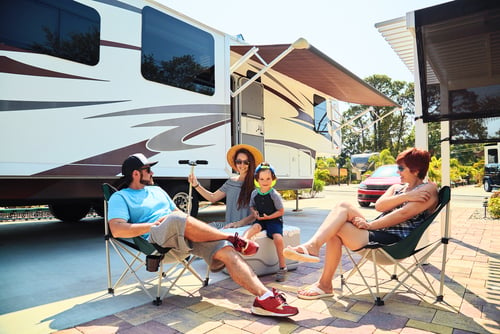 Coast to Coast Resorts is an RV membership program that allows RV owners to travel to beautiful RV campgrounds around the United States. It's simple to join and have access to the Coast to Coast Resorts network. You can become a member of an affiliate property of and then use your membership elsewhere within their network. What's more, many affiliate resorts of Coast to Coast must meet certain safety and amenities standards. This includes swimming pools, clubhouses, gated security entrances, and a wide range of activities that must be available.
Furthermore, Coast to Coast's primary goal is to allow families to travel more while spending less. For just $10 per night at their affiliate resorts, this RV camping membership program is a leader in bringing outdoor adventurists to the best membership camping resorts in the country.
Coast to Coast Home Resorts
To become a member with Coast to Coast, you must first become a member of one of their affiliate resorts. These are ranked in tiers by "Coast Classic," "Coast Deluxe," and "Coast Premiere." There are hundreds to choose from if you are considering becoming a member. Some of the top Coast to Coast resorts include:
Once you've chosen a Home resort, you'll have the option to stay at other properties and campgrounds within the network using Trip Points or special discounted rates. From California to Florida, the options are practically limitless.
Furthermore, the Coast Good Neighbor Parks add more value to your vacation experiences. Good Neighbor Parks resorts are open to the public rather than members only. They operate on a different set of guidelines but welcome Coast to Coast members with special rates.
Coast to Coast membership also offers week-long condo getaways, cruises, airfare, shopping and dining discounts, and more.
How Does It Work?
Enrollment with Coast to Coast comes with the ease of planning every vacation with the Tripsetter Reservation System. You'll have peace of mind knowing that each resort adheres to firm standards to keep you safe, and provide an upscale camping experience.
Coast to Coast requires annual membership fees as well at the anniversary of your enrollment each year. These are separate fees from your home resort, which may require annual maintenance fees. Furthermore, you must be an active member of Coast to Coast and with your home resort in order to continue using the Tripsetter Reservation System.
Think of Coast to Coast as a vacation exchange system, except with camping grounds and RV parks! The different tiers assigned to resorts come with different rules and regulations, such as length of stay, back-to-back reservations, or the number of visits allowed per year.
How Much Does It Cost?
Annual membership of Coast to Coast Resorts costs $90 per year. This does not include the cost of your Home resort membership or Home resort maintenance fees. If you are looking to save some, consider purchasing a membership on the resale market. You can browse from the top Coast to Coast affiliate resorts at a fraction of the cost. What's more, you can upgrade your Coast to Coast membership as well. Take a look at our Coast to Coast Memberships for sale, as well as Coast to Coast Deluxe Memberships for sale.
You can make an offer right online, or call us at 407-610-2734. Our Timeshare Specialists will be happy to help you find the best Coast to Coast membership for sale.