When you think of Florida, what's the first thing that comes to mind? Is it the theme parks? Oranges? For many travelers, it's the beaches! After all, it's the view of the sun shimmering over deep blue waters that gave Florida the nickname: the Sunshine State. These beaches have helped make Florida one of the most visited states in the U.S., and today, we've found and narrowed down the best cheap beach vacations in Florida so you don't have to. If you're looking for help planning out your next trip to Florida, look no further! These resorts are the perfect home base for a vacation you'll never forget.
Stay at a Timeshare for a Cheap Beach Vacation in Florida
In contrast to hotel rooms, units at timeshare resorts have more space than a traditional hotel. They have fully-equipped kitchens and private bedrooms for maximum comfort. The average timeshare is about 1030 square feet, which is larger than a typical apartment. Renters can avoid having to book multiple rooms by booking a timeshare rental. Timeshare guests are not only paying less than the average traveler, but they also have extra amenities. Additional amenities include a washer/dryer, housekeeping, concierge, on-site staff, pools, spas, fitness centers, as well as events and activities. Essentially timeshare guests are paying less for more.
Cheap Beach Timeshares in Florida
Hilton Grand Vacations Club At Mcalpin Ocean – Miami Beach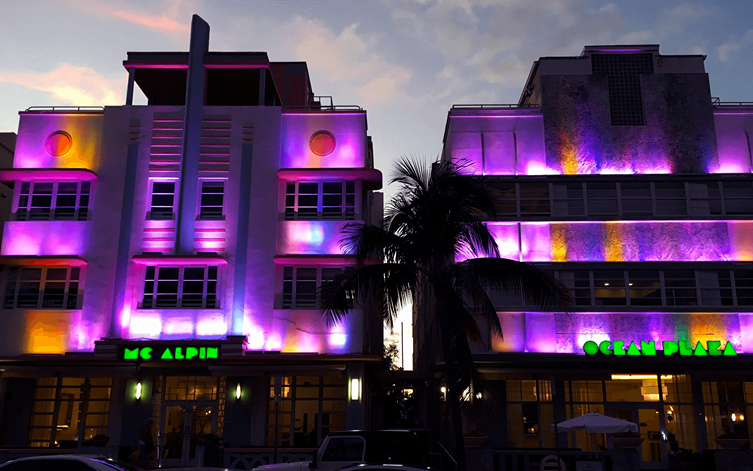 Hilton Grand Vacations Club At Mcalpin Ocean is an elegant RCI Gold Crown resort in the heart of Miami Beach's most popular attractions. The sun shines year-round on South Beach as you enjoy the beautiful weather and the luscious surroundings. So, grab your swimsuit and enjoy the clear water and gorgeous white-sand beach located across the street from this timeshare. Browse the sidewalk cafes, boutique shops, and art galleries or take a break and enjoy the tropical surroundings. There is no shortage of recreational activities to choose from, from water sports to deep-sea fishing to Everglades tours.
Ocean Towers Beach Club, A Bluegreen Resort – Panama City Beach
Ocean Towers Beach Club, A Bluegreen Resort, is located in the middle of Panama City's 'Miracle Strip,' an area known for its excellent fishing and many family attractions. Not to mention, there are three golf courses, tennis courts as well as amusement parks just minutes away. A dip in the oversized pool or a soothing soak in the hot tub or sauna are great ways to wind down at the resort after a busy day exploring Florida's Panhandle. On-site amenities include direct beach access, bicycle rentals, a pool, an exercise facility, a game room, a sauna, and a hot tub. In addition, every unit provides a full kitchen, washer/dryer, and a stunning view of the Gulf of Mexico.
Wyndham Clearwater Beach Resort – Clearwater Beach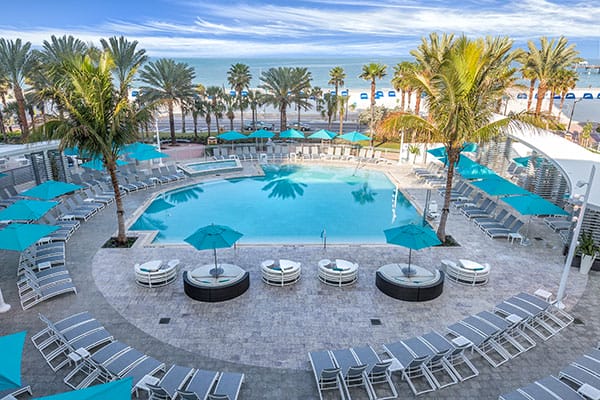 With sugar-white sands and emerald waters, it's no surprise that Clearwater Beach has often been named America's number one beach several times. In fact, Clearwater's a great place to see dolphins! You'll also love strolling down Pier 60, where performers, food vendors, and craftspeople gather for a sunset celebration. Plus, the pier is a great spot for fishing. Wyndham Clearwater Beach Resort is a great home base for a cheap beach vacation in Florida here. The resort boasts luxurious two-bedroom suites with a full kitchen and furnished balcony to give you a perfect view of the ocean.
Hyatt Sunset Harbor – Key West
Just a quick walk to Key West's most popular attractions, Hyatt Sunset Harbor, is set in the heart of Old Town. This luxury resort, featuring a variety of on-site amenities and services, offers a relaxing atmosphere. Of course, the island is best explored on a scooter, but you can also relax in your suite and enjoy the sunset from your private balcony or deck. The Florida Keys is one of the few places where you can see the sunrise and sunset without leaving town. In addition, amenities include children's activities, a pool, hot tubs, and in-unit kitchens. Choose between one-bedroom suites that sleep up to four guests or two-bedroom suites that sleep up to 6 guests on this cheap beach vacation.
Holiday Inn Club At Sunset Cove – Marco Island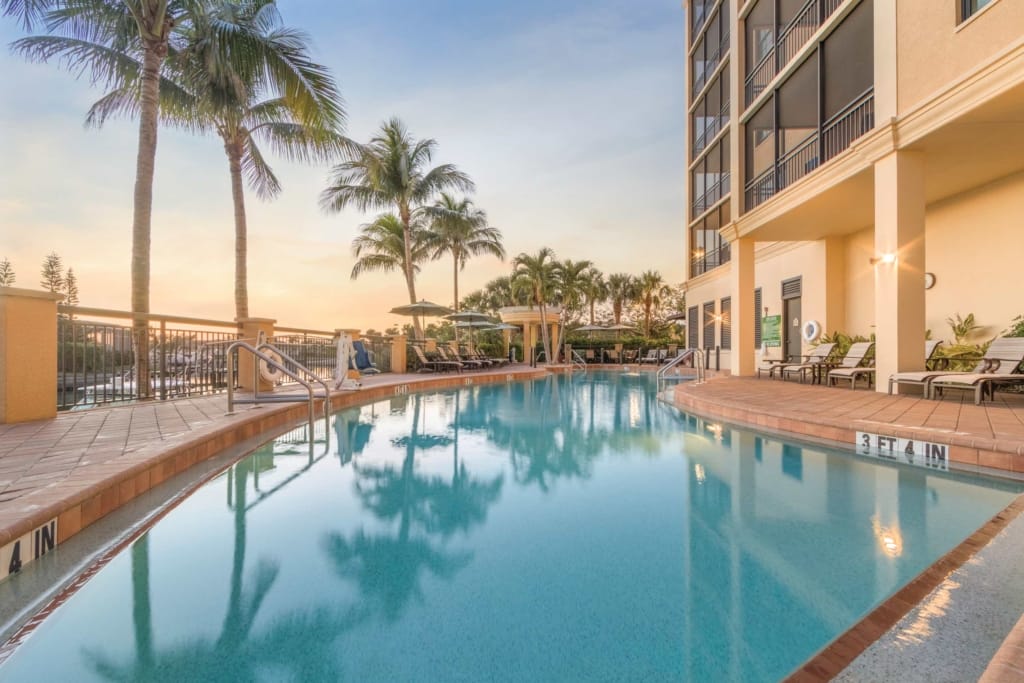 This fabulous Gold Crown development is located on the prestigious Rio Waterway within minutes of Marco Island's famous beaches. Situated in a quiet beach community, Holiday Inn Club At Sunset Cove is conveniently located near many specialty shops and attractions. Family favorite attractions include hunting for tropical shells, swimming at Tigertail Beach, kayaking through Rookery Bay, and overlooking the bar from the pool. In addition, you'll receive personalized service in the small resort atmosphere, where each three-bedroom villa offers the utmost in luxury and amenities. Find cheap beach vacations in Florida at this Holiday Inn Club resort.
Wyndham Palm Aire – Pompano Beach
Wyndham Palm Aire has everything from hot tubs to spas, to a sauna, to a health club with massage therapists all at your fingertips. This property is affiliated with the Wyndham family of resorts and upholds its name's high standards and incredible hospitality. While you play a round of golf or a game of tennis, the kids can head to the playground or game room for an afternoon of fun and adventure. It's just a short drive to Fort Lauderdale's fantastic shops and restaurants. What's more, just across the street is a harness horse racetrack. For dinner, prepare a meal in your unit's kitchen or just eat in the restaurant.
Marriott's Ocean Pointe – Palm Beach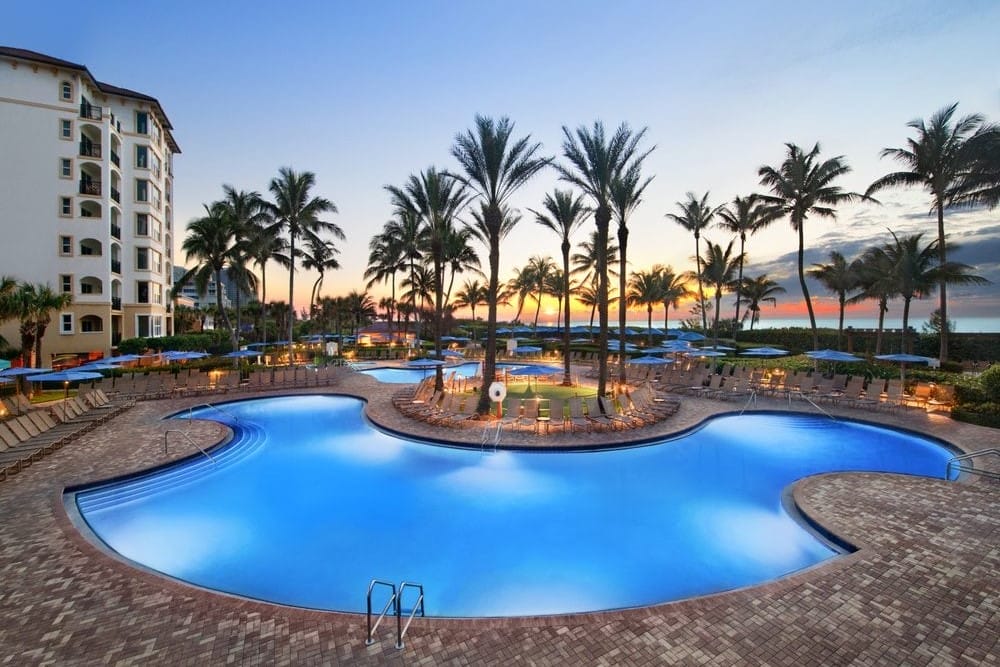 Known as America's first resort destination, Palm Beach will greet you with clean sand, warm waters, and plenty of fun activities. You can jet-ski, paddleboard, snorkel, and parasail here. There's also just as much to do on dry land as there is in the water. You'll find plenty of hiking trails and golf courts scattered across Palm Beach. When you're ready to unwind, Marriott's Ocean Pointe is a great resort to stay at. This resort overlooks the Atlantic Ocean and features spas, a pool bar, and beach access. Guests can relax in villas with one to three bedrooms which have king-sized beds and luxurious balconies.
Buy or Rent a Timeshare for Cheap Beach Vacations in Florida
If you're thinking of planning a trip to Florida, there's no time like the present! If you'd like to return to the Sunshine State each year, buying a timeshare is a great way to do so! On the fence about buying? No problem! You can always rent a timeshare to enjoy the same luxurious experience but for a lower cost. Our marketplace has resorts from all the best timeshare brands like Marriott, Hilton Grand Vacation Club, Hyatt, and more! If you have any questions, feel free to give us a call at 1-800-610-2734 or email us at info@timesharesonly.com. Our licensed agents are always happy to help!