Traveling for the holidays this year? You have to make time to visit some of the best Christmas towns in the USA. Get in the Christmas spirit with hot cocoa, candy canes, Santa Claus visits, and more. Each of the best Christmas towns in the USA will put you in the holiday spirit, so a weekend getaway or weeklong trip is in order to celebrate the holiday season with the family.
Williamsburg, Virginia
Head to the heart of the country in Williamsburg for colonial traditions and a festive atmosphere. It will be just cold enough to feel like you're in the North Pole but stay comfortable. The Yorktown Christmas Tree Lighting starts on December 3rd and is an annual tradition since 1945. A 20-foot "Giant Everest Fir" in Riverwalk Landing is lit while everyone gathers. Enjoy a performance by the Fifes and Drums of Yorktown and visit Santa. For more winter lights, join Colonial Williamsburg every weekend of December for the annual Grand Illumination fireworks show.
For all your shopping needs, head to the Williamsburg Premium Outlets. Or, check out four of Williamsburg's specialty-themed Christmas shops.
Places to Stay in Williamsburg
Branson, Missouri
You can't go wrong heading further down south when you're looking for the best Christmas towns in the USA to experience. Do it like Dolly Parton in Branson, Missouri for flashy festivities. Also known as "America's Christmas Tree City," celebrations start in November and don't stop until New Year's Day. Get your entertainment fix by going to a Christmas show in Branson, like "Christmas Wonderland," an over-the-top production that will fill you with warmth for the season.
Christmas lights lovers are encouraged to grab a hot cocoa and get in the car for a driving tour with "Let There Be Lights!" a two-mile LED drive-thru display. There are even real-life reindeer to see. If you're a fan of "The Polar Express," take to the Branson Scenic Railway's Polar Express Train Ride for an immersive experience.
Places to Stay in Branson
Riverside, California
If you'll be on the West Coast this holiday season, you can't miss Riverside, California's Festival Lights. For 29 years, The Mission Inn Hotel and Spa Riverside Festival of Lights has wow-ed and welcomed guests. Live entertainment, food and drinks in Downtown Riverside will add some excitement to your visit. Attend the annual Switch-On Ceremony November 26th to see more than five million lights illuminate the sky.
Art enthusiasts can visit the Artisans Collective for one-of-a-kind pieces by local artists and listen to local musicians' live music. For an incredible view, hop on The Century Wheel and see the lights from above.
Places to Stay Near Riverside
Myrtle Beach, South Carolina
Santa's on vacation at Myrtle Beach, South Carolina. With amazing holiday shows like "The South's Grandest Christmas Show at the Alabama Theatre," dancing gingerbread characters, toy soldiers, and reindeer put on a phenomenal show.
Join in for the 27th Annual Tree Lighting Ceremony this year, Dashing Through the Glow 2 Mile Fun Run, and Ripley's Festival of Trees. As one of the best Christmas towns in the USA, Myrtle Beach is quiet around this time but still a real treat. For fewer crowds, winter waves on the beach, and festive events, you can't go wrong here.
Where to Stay in Myrtle Beach
Helen, Georgia
Decemberfest in Helen, Georgia is almost unbeatable. German food and beers bring a European flair to the holidays here. Enjoy a classic, Victorian Christmas at the Hardman Farm Historic state Site. Tours start the weekend after Thanksgiving every Friday and Saturday, where visitors can see the historic home in period holiday decor. The first two weekends of December hosts The Christkindlmarkt, a traditional event with booths that have gifts, decorations, and treats to eat. The Lighting of the Village event welcomes Santa and Mrs. Clause, kicking off the season with local music groups and beautiful lights.
Orlando, Florida
You just can't go wrong visiting the Central Florida area during December. Enjoy mild weather while visiting Orlando's most popular theme parks that are decked out with holiday decor. Of course, Walt Disney World Resort theme parks have holiday-themed parades and shows all December long. Or, visit Universal Studios to experience Grinchmas in real life. There are lots of little Christmas towns in Orlando to visit during December, such as Celebration. Celebration hosts thousands of visitors every December for a nightly "snowfall" and an outdoor "ice" skating rink.
Where to Stay in Orlando
Leavenworth, Washington
This quaint village is about a two-hour drive away from Seattle, Washington, and makes visitors feel as if they are visiting Germany during December. Leavenworth is without a doubt one of the best Christmas towns in the USA, with 21 miles of holiday lights along every road and fence. Enjoy a Christkindlmarkt, handbell concerns, Gluhwein, and a weekly festival of carolers.
Resorts Near Leavenworth
Park City, Utah
Known for being one of the best places to ski in the United States, Park City, Utah is also one of the best Christmas towns to visit. Set aside your skis and snowboards in the evenings to visit the holiday markets, sleigh rides, and more. The most highly-anticipated event at Park City every year is the Christmas Eve torchlight parade when skiers and snowboarders come down the mountain with torches in hand to welcome Santa into town.
Where to Stay in Park City
Stockbridge, Massachusetts
As one of the best Christmas towns in the USA to visit, Stockbridge brings art to life every year. Ever gaze upon the famous 1967 Rockwell painting "Stockbridge Main Street at Christmas (Home for Christmas)"? The town re-creates the painting during the annual festival with old-fashioned cars and colorful lights on the main street. Visitors can also tour historic homes during this time that are specially decorated for the holidays.
Where to Stay Near Stockbridge
New York City, New York
Perhaps the most widely popular answer to the best Christmas towns in the USA, New York City is a true winter wonderland every December. Visiting Rockefeller Center at this time is on most bucket lists, with ice skating underneath the iconic tree. You also won't want to miss incredible shows like the Cirque du Soleil: 'Twas the Night Before or Christmas Spectacular Starring the Radio City Rockettes.
New York Timeshare Resorts to Stay In
St. Augustine, Florida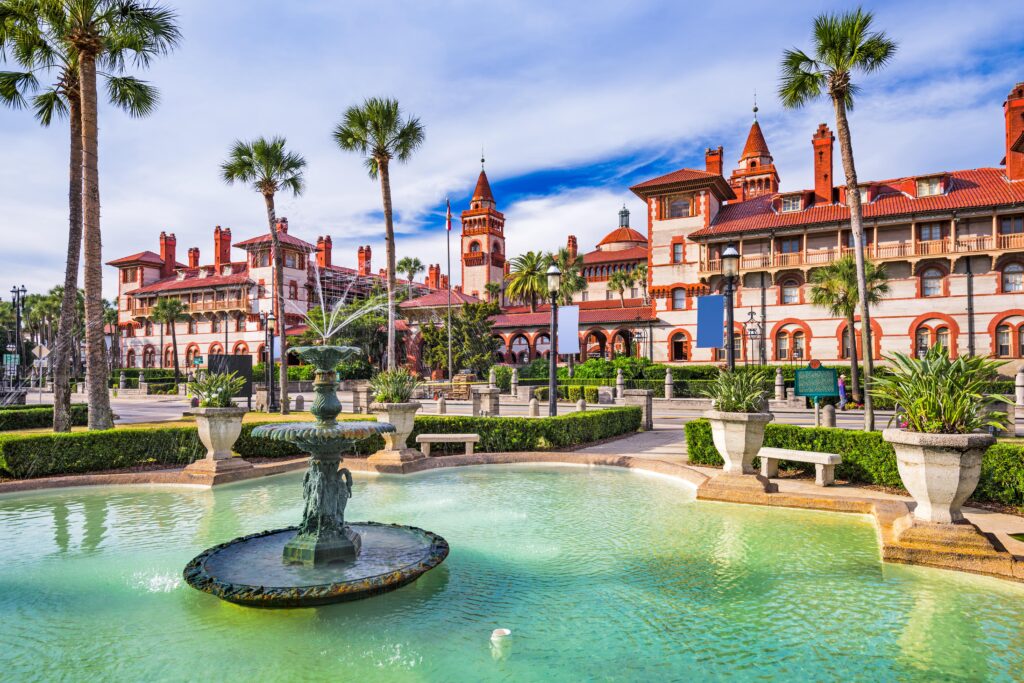 For a nice day trip from Orlando, or simply a visit to one of Florida's best beach towns, St. Augustine is simply one of the most festive spots to be. As the oldest city in the United States, St. Augustine celebrates with classic lights, candles, and decor throughout the colonial downtown district and beyond. What's more, you can visit the beach as well to enjoy some winter waves and escape the cold up north.
Where to Stay in St. Augustine