Buying a timeshare is a major decision. Especially when a timeshare can cost thousands of dollars. If you are interested in vacation ownership, timeshare financing is an option. And it's easier than ever to estimate monthly payments with a timeshare loan calculator. On every timeshare posted for sale on our website, you can calculate monthly loan payments with the Monthly Payment Calculator.
How to Use the Timeshare Loan Calculator
With the previous launch of our newly-designed, sophisticated and innovative website, we've developed a convenient and impressive timeshare loan calculator, also known as the Monthly Payment Calculator. Timeshare buyers can use the calculator right from home. Never seen before in the resale industry, the Monthly Payment Calculator makes the decision to buy a timeshare as seamless as ever.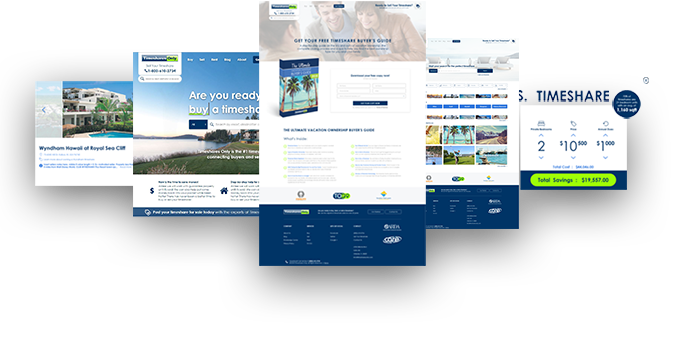 Comparing costs and researching the best prices of a timeshare on the resale market is one of the most time-consuming aspects of finding the right timeshare for you and your family. Clicking back-and-forth between tabs, losing track of informative web pages, keeping a physical calculator in hand and even taking notes make this process such a pain.
That's why we wanted to make this process easier with the Monthly Payment Calculator. In partnership with Vacation Club Loans, buyers will be able to see more visible pricing of timeshares for sale. The timeshare loan calculator breaks down the prices into monthly payments for every timeshare on the market. It will also take into consideration interest rates and estimated down payments, so there are no surprises when it's time to sign the contracts.
This never-before-seen tool gives potential buyers a better idea of what they feel comfortable spending on a timeshare. It invites the "maybe" and "I don't know if I can afford it" nay-sayers into the realm of the resale industry. The approximate budget that the Monthly Payment Calculator estimates will bring greater value to the timeshare industry as a whole.
How to Buy a Timeshare Using the Monthly Payment Calculator
It's easy! Follow these steps and you'll be finding approximate budgets for a resale property within seconds.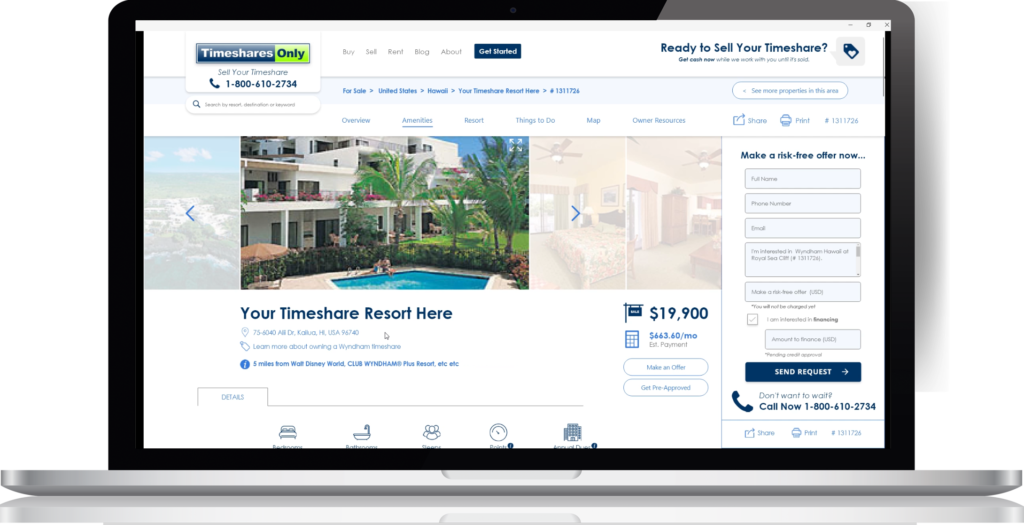 Once you've browsed our large inventory of timeshare resale properties and found one that you are interested in buying, the estimated monthly payment shows up immediately on the page underneath the owners asking price.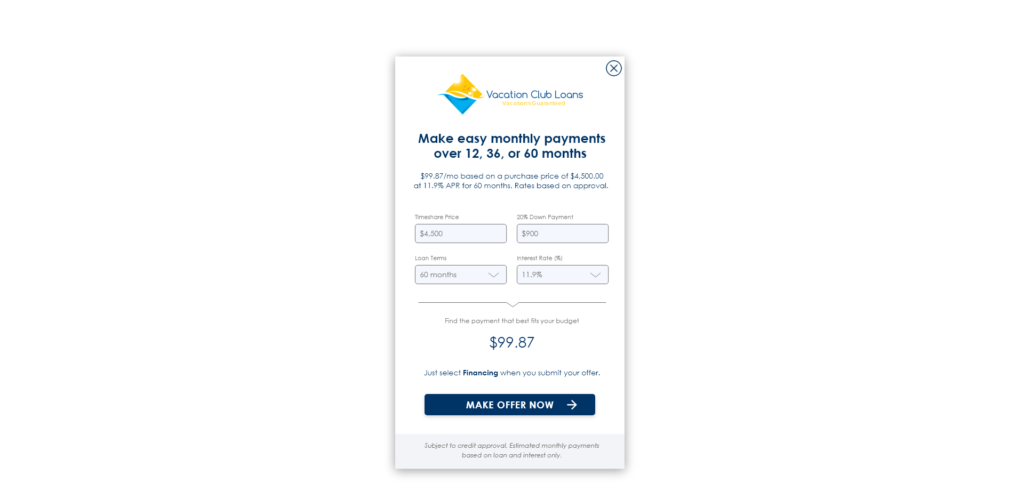 Simply clicking on the calculator will open the Vacation Club Loans in-depth loan calculations window. Simply input and customize each field to find a monthly payment that works for you. Loan terms can range from 12 to 60 months. Interest rates range from 9.9% to 16.9%.
Play with these fields to find an option that will work for you, and then make an offer! Once it is accepted, a trusted, licensed agent will contact you to continue with the closing process.
How to Apply for Financing
Whether you are purchasing a timeshare directly from a developer or the resale market, it's simply to secure a timeshare loan. Most developers have in-house financing they offer, but you may be able to secure a timeshare loan from a third party with better rates.
Our friends at Vacation Club Loans offer financing for most major brands. Once you've calculated monthly payments with the timeshare loan calculator, you can get fast pre-approval online. When you browse the Timeshares Only resale market, use the timeshare loan calculator to easily estimate monthly payments and apply for financing when you make an offer. A representative from Vacation Club Loans will contact you promptly to verify the details and guide you through the next steps of securing a loan.
Vacation Club Loans financing terms:
At least 600 FICO credit score for instant approval
Up to 120 months/10 years for loans over $10,000
Up to 60 months/5 years for loans under $10,000
Finance up to 90% of your purchase
No prepayment penalties
No loan origination fees
Browse Timeshares for Sale on the Secondary Market
Timeshares Only is the number one timeshare resale marketplace for owners, buyers, sellers, and renters. Browse our timeshares for sale posted by owners at top resorts or with the best travel clubs. When you find one you love, simply make an offer online on one of the forms. Or call us at 1-800-610-2734.