Somerpointe Resorts is a small yet mighty developer. It is one of the best vacation brands, with its 12 luxurious resorts in Las Vegas, Hawaii, and Orlando. When choosing where to own, you can't go wrong since each resort is spectacular and located in some of the most sought-after locations. Let's take a look at what Somerpointe Resorts has to offer.
Somerpointe Resorts Overview
Thanks to Somerpointe Resorts' 2,000 guestrooms and over 30 years of experience, more than 100,000 families around the world have enjoyed unforgettable vacation memories. As a second-generation family business, Somerpointe Resorts have maintained its original values while also evolving with the times. Somerpointe Resorts has become a more flexible product with premium service and incredible owner benefits for its clients. One of the most substantial benefits is exchanging through RCI. When you are a Somerpointe Resorts owner, you can become a member of RCI, the largest vacation exchange network in the world. Becoming a member of RCI allows you to exchange your stays at your home resorts for a stay at other resorts across the world.
12 Somerpointe Resorts in Hawaii, Nevada & Florida:
Sands of Kahana
Kahana Beach
Kahana Villa
Hono Koa
Maui Beach
Maui Banyan
The Garden at West Maui
Kona Islander
Tahiti Village
Tahiti Resort
Club de Soléil
Villas at Regal Palms
Top Somerpointe Resorts in Hawaii
Sands Of Kahana
Guests will be launched into a paradise unlike no other when staying at the luxurious Sands Of Kahana. Set among one of Hawaii's most beautiful beaches, it's no surprise this is one of the best resorts in Maui. The amenities are vast, with tennis courts, a restaurant, a bar, a children's game room as well as a beach activity center. In addition, they have a private adult pool if you are wanting a break from the children or a family pool area where everyone can enjoy some fun in the sun. For those of you who don't think a vacation is complete without a round of golf, you will love this resort's location because nearby there are five championship golf courses.
Kahana Villa
Located near the historic whaling village of Old Lahaina, Kahana Villa provides an unforgettable trip to its guest in Maui. The open-air lanai, microwave oven, a washer, and dryer are all facilities in each suite that guests will enjoy. Not to mention the fabulous amenities on-site, including a restaurant, pool, sauna, tennis courts, and easy beach access. For fine dining, shopping, live entertainment, and art galleries, head to Old Lahaina. In contrast, for a day in the sun, check out Kahana Beach, where snorkeling and sunbathing are mandatory activities for the day.
Top Somerpointe Resorts in Vegas
Tahiti Village
As Somerpointe Resorts' flagship resort, you know you are in good hands with Tahiti Village. In the Entertainment Capital of the World, this resort offers a romantic island-inspired oasis less than two miles from the infamous Las Vegas Strip. Free form pools, hot tubs, a lazy river, cabanas, a sand volleyball court, bbq grills, a spa, arcade, and a putting green are just some of the amenities available across the 27-acre resort. In addition, there are four on-site dining and drink choices including 17 South, Arturo's Village Pizza, Sandbar, Lazy River Bar. Accommodations come in one-bedroom and two-bedroom suite styles.
Club de Soléil
Vegas is know for its fast-paced nightlife, but if you want to escape the crowds Club de Soléil allows you to do so. You can be close enough to the action but far enough from the crowds to relax away from the noise and bustle of the city. After a day out and about, relax in the flowering garden or enjoy the luxurious spa. Not to mention, the on-site masseuse or concierge will be happy to assist you if you have any special needs or requests. Moreover, every suite comes complete with a fully equipped kitchen, laundry facilities, fireplace, multiple televisions, and a whirlpool tub.
Top Somerpointe Resorts in Florida
Villas at Regal Palms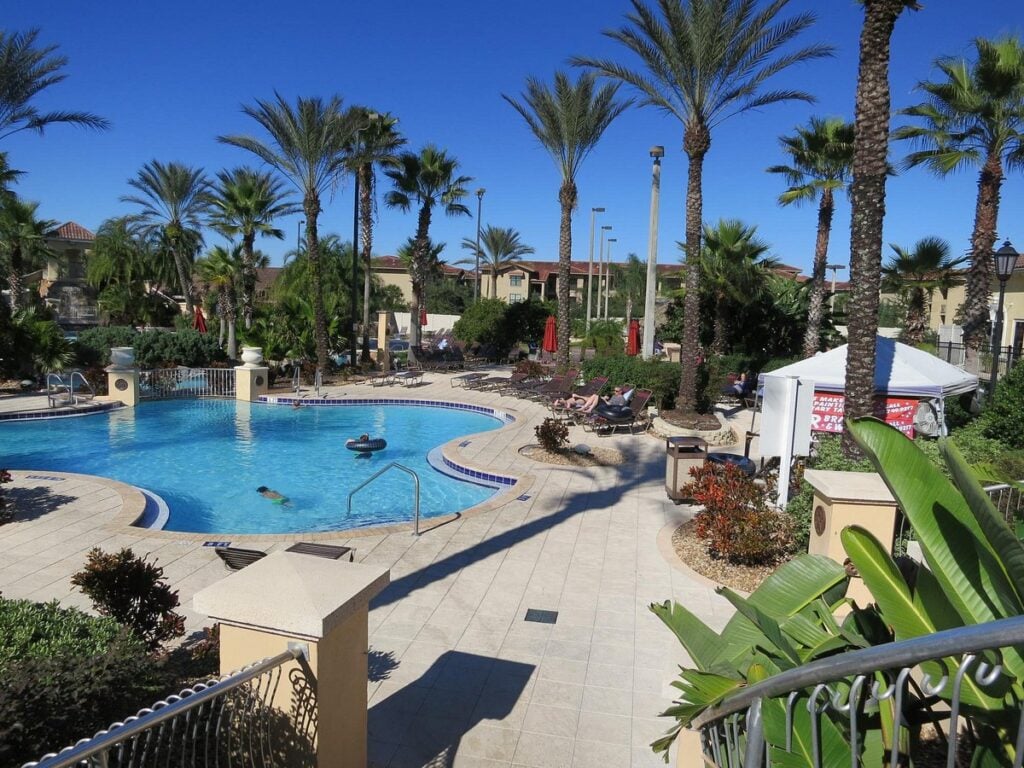 Orlando is know for its fabulous theme parks including, Disney World, Universal Studios, as well as SeaWorld Orlando. In addition, it has fablous shopping, dining, and nightlife opportunities. If you want to participate in all this fabulous city has to offer, look no further than Villas At Regal Palms. This incredible Orlando timeshare has a lazy river, hot tubs, a lounge area, swimming pools, a restaurant, a game room, a fitness center, clubhouse and much more. LCD TVs, stainless steel appliances, a washer, and dryer are all included in each unit to elevate your experience.
Buy or Rent a Somerpointe Resorts Timeshare
As mentioned previously, there is no wrong choice when it comes to purchasing or renting within the Somerpointe Resorts umbrella. At Timeshares Only, we give timeshare owners the opportunity to rent or sell their timeshare. Thankfully we have a wide variety of Somerpointe Resorts to choose from. If you are looking to try a timeshare before you buy one, or simply find a cheap deal, consider renting. Start the process today by looking at our timeshares for rent by owner. Or maybe you are ready to commit to a Somerpointe resorts. If you are ready to buy checkout our marketplace of timeshare for sale. Regardless we'd love to help you though the process and find the perfect timeshare for you. Give us a call today at 1 (800) 610-2734 for assistance.