Next time you take a Florida beach vacation, keep Grand Seas Resort in Daytona timeshares in mind. The Grand Seas by Exploria Resorts is a favorite among families, locals and couples looking for a long weekend getaway. Not to mention, Daytona is a prime beach spot in Florida with powdery-white sand and lots of sun.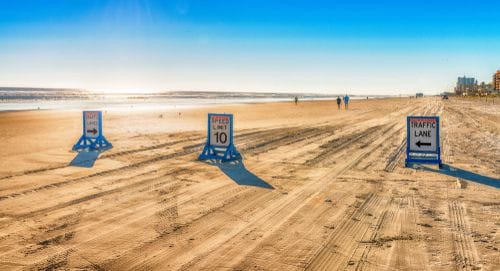 The best Daytona beach timeshares are going to be any one of the suites at Grand Seas Resort by Exploria. Located seaside on the Atlantic Coast, the resort features many luxurious and family-friendly amenities. If it's just you and a loved one, it also makes a perfect long weekend trip for those much-needed getaways.
Daytona is famous for being able to drive right onto the beach, so make sure to pack the car with all of your seaside essentials. The Grand Seas specifically overlooks about 812 feet of the "World's Most Famous Beach," known for being a hub for all sorts of attractions like Bike Week or the Daytona International Speedway.
Grand Seas Resort Amenities
When you rent a timeshare at the Grand Seas Resort, many of the amenities that owners enjoy will be readily available for your trip as well. Make it to the sand in minutes with direct beach access, or chill out at one of the three pools on-site. Families and children have access to the great activities here too, with a scenic mini-golf course next to the ocean and water slides at the pool. If a couples getaway is more your speed, enjoy some drinks with a sweeping view of the ocean at the outdoor pool bar.
Afternoons lazing out in the sun all day make for an empty stomach. You won't even have to leave the resort when the Grand Seas also has the Beachside Cafe. Relax in a retro diner for breakfast, lunch or dinner and enjoy the beachy vibe.
Vacation Homes for Rent in Daytona Beach FL
At the condominium-style Grand Seas Resort in Daytona, vacationers can rent a suite from timeshare owners for their next trip!
Accommodations come in two different size suites and can accommodate up to four people. The Courtside Studio suite has a fully-equipped kitchen and pull-out sofa. Up to two guests can sleep comfortably in this space and enjoy a large flat screen TV.
For some extra space to stretch out, the Grand Seas Resort also offers the Courtside 1 bedroom suite. Featuring a full kitchen, king size bed and queen sofa sleeper, up to four people can stay comfortably in this space. With a multi-level space, small families can have a great experience.
Things to do in Daytona Florida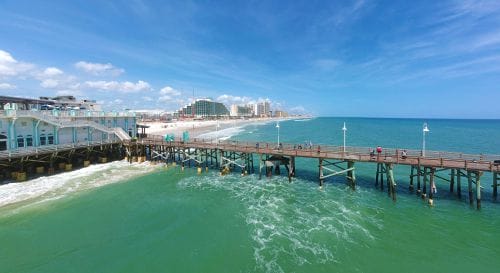 Whether you have kids in tow or are just looking for some fun things to do in Daytona Florida, you'll find plenty to keep you busy. The Marine Science Center, only about 14 miles away from the Grand Seas Resort, has great interactive exhibits. Visitors can learn about Florida's dominant marine life and get their hands wet to feel some cownose stingrays.
Adventurous couples or families should make paddle boarding adventure tours a top priority. Balance on a long paddle board in the ocean while being guided to see dolphins or manatees! The Three Brothers Boards has some of these exclusive and exciting tours, so don't miss out.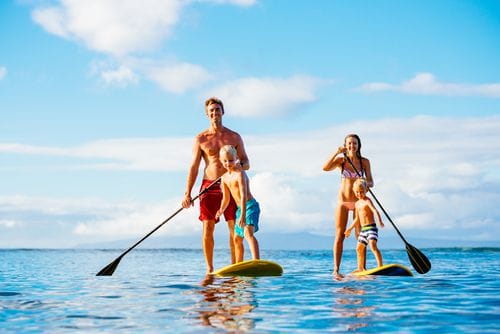 The Daytona Beach Pier is also nearby, where restoration efforts brought in a roller coaster ride, ferris wheel and plenty of shopping and dining experiences. For just a fun night out and a bite to eat, the pier perfectly encapsulates the beach-town culture of Daytona.
Other Daytona Beach Timeshares to Check Out
If you're not an Exploria Resorts owner or looking for other accommodations, our resort marketplace has plenty of other timeshares in Daytona beach to rent or buy.