Do you like live entertainment? What about discovering underrated theme parks? Do you love exploring endless hiking trails that stretch out as far as the eye can see? If the answer to any of these questions is yes, Branson, Missouri, is the perfect vacation destination for you. This town is a hidden gem in the Midwest and perfect for anyone who's gotten tired of visiting the usual vacation spots. While you're in Branson, you'll want to stay somewhere that gets you close to all the best attractions while still being comfortable. That's where Club Wyndham Mountain Vista comes in! This resort boasts spacious accommodations and luxurious amenities to keep you comfy during your stay while making sure you're close to the best that Branson has to offer.
1. The Amenities at Club Wyndham Mountain Vista are Top-Notch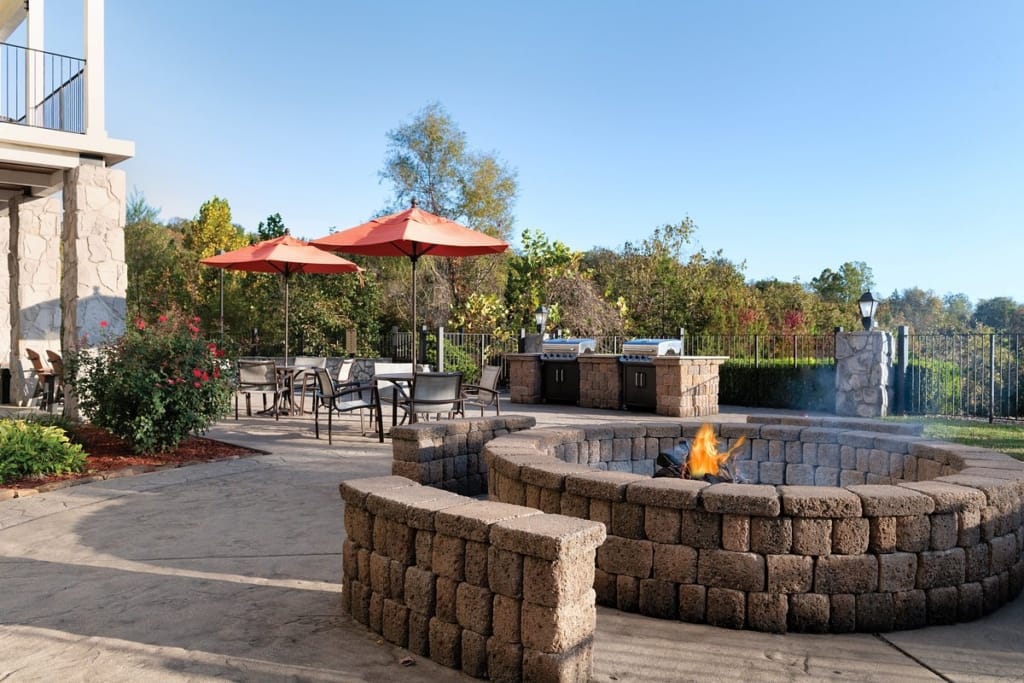 While you'll be spending the majority of your time outside, you can rest assured that Club Wyndham Mountain Vista has tons of amenities that will make your stay as comfortable as possible. Cool off at either the indoor or outdoor swimming pool while the little ones enjoy the children's pool. Want to relax and unwind after a busy day? Then stop by the on-site sauna or take a dip in the hot tub. You'll even be able to visit the fitness center and business center, so you won't ever have to worry about falling behind on your routines, even when you're on vacation. For the younger guests in your group, there's an arcade and children's playground to keep them occupied. Finally, if you'd like to work on your tan, this resort has a full sunbathing area for you to take advantage of. 
2. The Accommodations at Club Wyndham Mountain Vista Are Spacious
Accommodations are typically one of the most important factors to consider when it comes to choosing where to stay. Fortunately, Club Wyndham Mountain Vista shines when it comes to space. You can stay in a one, two, three, or even four-bedroom suite. These suites all have king-sized beds and queen-sleeper sofas. You'll also enjoy full kitchens complete with everything you'll need to cook your own meals and separate living and dining areas. With all of this room to stretch your legs in, these suites can accommodate four to twelve guests, depending on which you choose. Plus, the suites boast 900-2,540 square feet of space, so you'll have more than enough room to stretch your legs. Want to enjoy a great view of Branson? You're in luck! All suites come with a private balcony or patio, so you'll be able to enjoy some fresh air.
3. You'll Be Near Plenty of Great Attractions at Club Wyndham Mountain Vista
No matter how much you enjoy your luxurious suite or the many amenities offered at the resort, you'll plan to go outside at some point. (Though we wouldn't blame you if you find it hard to leave). Fortunately, Club Wyndham Mountain Vista is near many of the best attractions. No need to worry about long drives here! Here are just a few of the things you can do nearby.
Hop On the Branson Scenic Railway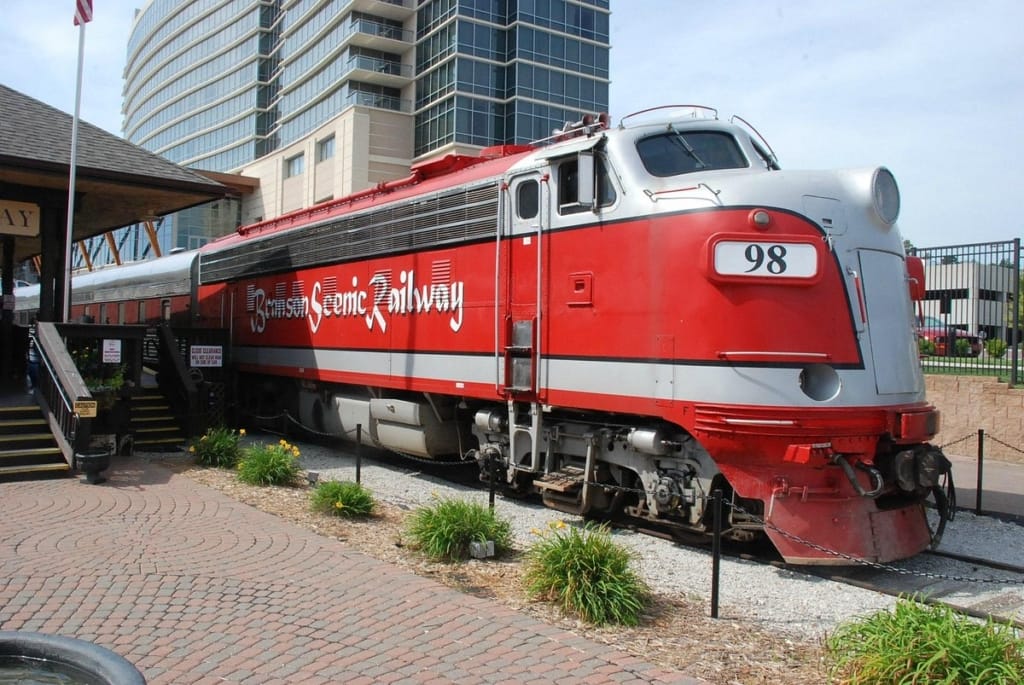 Branson is home to some of the most beautiful forests in the U.S. Want to take in as much of this gorgeous scenery as possible as fast as you can? Then climb aboard the Branson Scenic Railway. The railway, located about seven miles from Club Wyndham Mountain Vista, takes visitors on a scenic tour of the Ozarks in carefully restored railcars from the 1930s-60s. As the railway winds around the breathtaking countryside, you'll see pristine lakes, rugged hillsides, and much more! While this railway is a beautiful sight all year, it's especially gorgeous in the Fall, thanks to the changing colors of the leaves. After all, there are few views better than that of a forest covered in vibrant red and gold leaves. As a result, the Branson Scenic Railway cements this city as one of the best places to visit for a Fall vacation.
Explore the Lost Canyon Cave and Nature Trail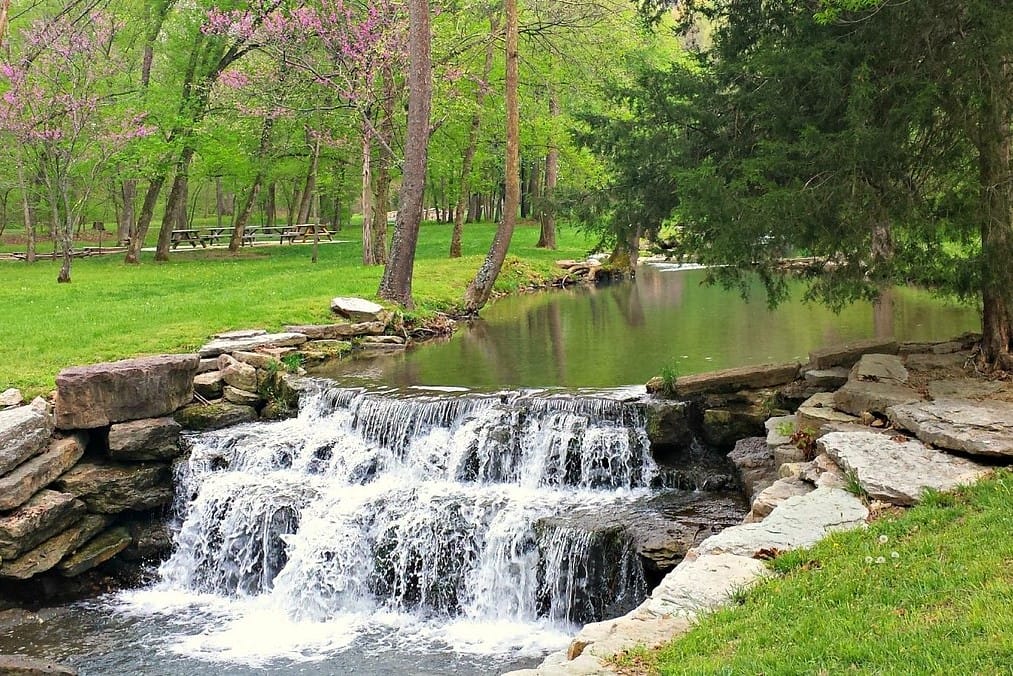 While the Branson Scenic Railway is an incredible experience everyone should try, some travelers prefer to get their boots dirty while they take in nature. If that sounds like you, check out the Lost Canyon Cave and Nature Trail. You'll find the cave just over 12 miles away from Club Wyndham Mountain Vista, and it serves as a great showcase of Missouri's natural scenery. There are winding forest trails, relaxing waterfalls, and unbeatable views from the summit. Once you've had your fill of the open skies, head into the cave itself for even more incredible sights. While the stalactites alone are impressive, the real centerpiece of the cavern is a cascading waterfall. In fact, you'll be able to get views of the waterfall from four separate balconies, perfect for photo ops!
Visit Silver Dollar City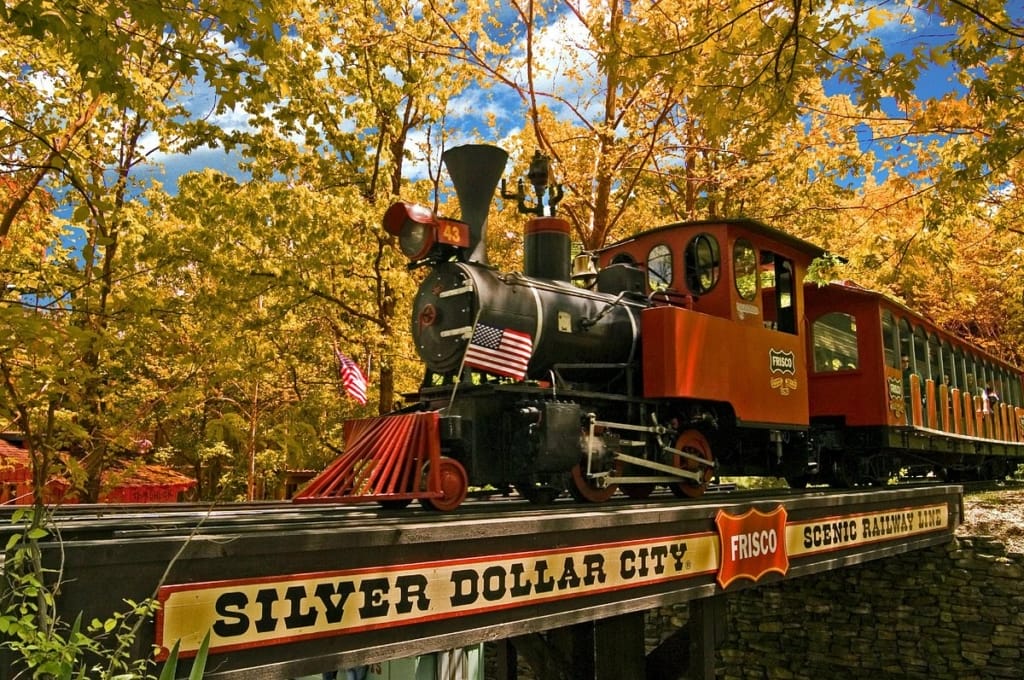 All of the nature in Branson is great, but even the most avid nature lovers need a break sometimes. When that time comes, visit Silver Dollar City! This amusement park is just a nine-mile drive from Club Wyndham Mountain Vista and a great palate cleanser from all the nature you'll find elsewhere. With over 40 thrilling rides, including some pulse-pounding roller coasters, there's a lot to enjoy at Silver Dollar City. While the coasters themselves are great, what really sets this park apart from the crowd is its live entertainment. Several performances are hosted at the park each day, and with a rotation of different acts, there's bound to be something new each time you visit. Aside from the live performances, you'll also be able to watch craftsmen at work. From candy makers to blacksmiths, if you've ever wondered how something is made, you'll likely find out here!
4. Buying a Timeshare at Club Wyndham Mountain Vista Gives You the Most Bang for Your Buck
Whether you like snapping photos of breathtaking scenery or exploring caves in the heart of the woods, you're sure to love Club Wyndham Mountain Vista. If you want to get the best value for your next vacation, buying a timeshare is a great option. With a timeshare, you'll save money over the years on return trips to Branson, and trust us, you'll definitely want to keep coming back. Plus, with a timeshare, you'll have triple the amount of space you'd get at a hotel room on top of plenty of amenities.  What's not to love? If you'd like to buy a timeshare, then check out our marketplace! We have listings not just for this resort but others from brands like Wyndham, Marriott, and Holiday Inn Club Vacations.
What If I No Longer Use My Club Wyndham Mountain Vista Timeshare?
If you aren't currently using your Club Wyndham Mountain Vista timeshare, we can help you too! At Timeshares Only, we help timeshare owners like you rent out their timeshares every day. When you rent out your timeshare, you'll be able to put some money back in your pocket to help pay off your maintenance fees. Perfect for those years when you just don't plan to travel! If you have any questions about renting your timeshare, please give us a call at 1-800-610-2734 or email us at info@timsharesonly.com. We're always happy to help!