Canada has some of the world's best slopes for skiing and snowboarding. Not to mention, ski resorts in Canada are often significantly cheaper than resorts in Colorado or Switzerland. So, you get the most fabulous skiing and resorts for a fraction of the price. What more could you ask for? When you are looking for which Canadian ski resort to visit, it can be challenging due to the number of incredible options. If you're currently in planning mode for your next family ski vacation, you have come to the right place; these are the top Canada ski resorts that should be on your radar.
Canada Ski Resorts in Banff and Lake Louise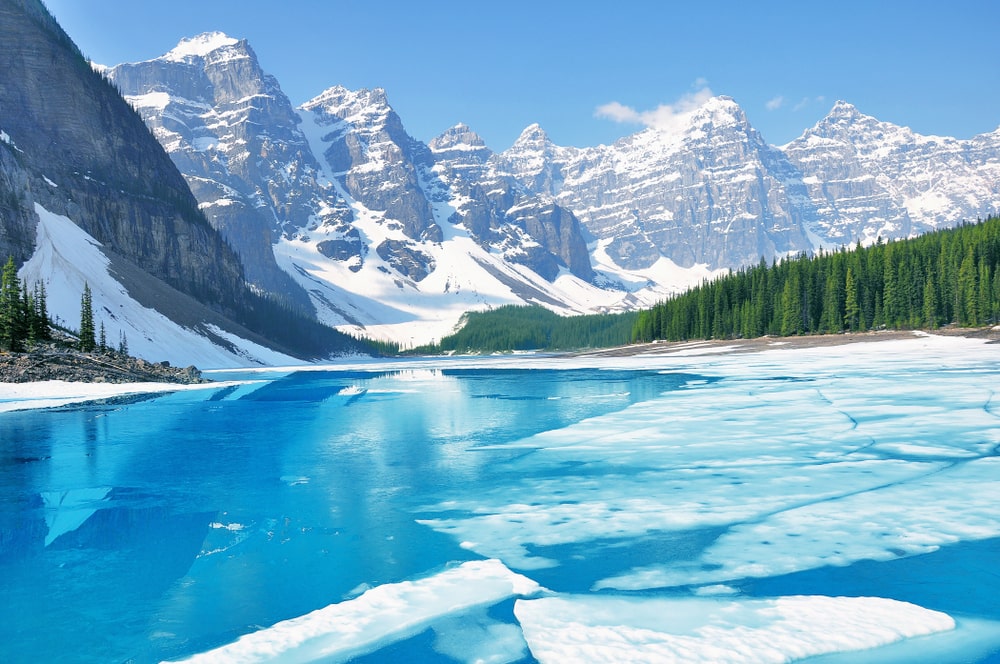 There are three ski resorts in the towns of Banff and Lake Louis; Banff Sunshine, Lake Louise, and Mt. Norquay. Traveling to Banff allows you easy access to each of the ski resorts. Across the three resorts, there are a total of 7748 acres for skiing with 29 lifts and 362 runs – all are accessible with just one SkiBig3 Lift Ticket. Due to a large number of runs, there is also a variety of difficulty levels within these Canada ski resorts, so whether it is your first time skiing or you like a more challenging experience, there is something for everyone in your group.
Banff Rocky Mountain Resort
Canada Ski Resorts in Saint-Sauveur
The Laurentian Mountains are one of the most cherished destinations in Canada for outdoor activities and tourism. This region of Canada has multiple ski resorts for plenty of fresh powder fun. The most popular ski destinations in Saint-Sauveur include Mont Habitant and Sommet Saint-Sauveur. From November to April, you can ski these great slopes. Both offer several beginner runs, as well as more challenging slopes like triple and quadruple black diamonds. This famous mountain range has skiing lessons, different lift tickets, and equipment rentals at your convenience.
Club Geopremier At Auberge Du Lac Morency
Canada Ski Resorts in Barrie
The main ski areas in Barrie include Snow Valley, Horseshoe Resort, and The Heights-Horseshoe Valley. Barrie is in the heart of Ontario, so there are fabulous skiing and exploration opportunities. The ski resorts are on the outskirts of the town but very easy to access. If you are looking for a family-friendly resort, Snow Valley and Horseshoe Resort are the places to be. The Heights – Horseshoe Valley has more intermediate and challenging slopes but still has some easy ones. So, it is the perfect spot if you are looking for a happy medium. Regardless of which Barrie Canada ski resort you ski on, you will have a memorable winter trip.
Horseshoe Resort
Canada Ski Resorts in Whistler
Last but certainly not least is Whistler Blackcomb, the largest ski resort in all of North America. Over 200 marked runs, 8,171 acres of terrain, three glaciers, and 16 alpine bowls can be found on Whistler and Blackcomb's side-by-side mountains. Located at the top is the Peak 2 Peak Gondola, which allows you to move back and forth between the Whistler and Blackcomb mountains. Between the two terrains, there are endless opportunities for trying out new runs each time you hit the slopes. There are about 200 days of the skiing season starting in November and ending in May, which allows plenty of time to schedule a vacation.
WorldMark Sundance
Buy or Rent a Timeshare Near One of the Top Canada Ski Resorts
The fabulous thing about buying a timeshare is that you can take a trip yearly, whether it is to the same resort or if you choose to go to a different resort. This is perfect if your family takes an annual skiing trip. Buying a timeshare is a great way to save money over a lifetime of vacations. We have all the resorts above on our marketplace for sale. All you have to do is simply make a purchase on the one for you.
If you aren't quite ready to purchase, then renting a timeshare is a great way to try before you buy. It's also a great way to find a deal on your next ski vacation at a fabulous Canada ski resort. We have a wide variety of timeshares ready for rent. Start by looking through our rentals now. Then, simply make an offer once you found what you are looking for! If you have any questions about renting or buying, we are happy to help! So, call us at 1(800) 213-7733 or email us at info@timesharesonly.com.