Whether you're an avid traveler or an occasional adventurer, everyone should visit New York once. The City That Never Sleeps has a rich culture and history that has to be experienced. Many resort developers know this, and as a result, there are tons of great places to stay in NYC. However, there's one resort that takes luxury to a whole new level: Westgate in New York. Nestled in the heart of Tudor City, Westgate New York Grand Central combines classic elegance with a modern touch to create an unforgettable home away from home. Here's everything you need to know about this unforgettable resort.
Amenities at the Westgate in New York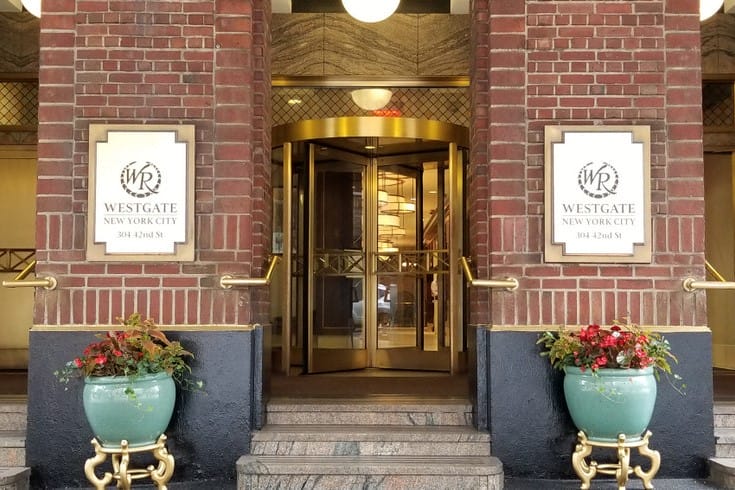 Before you take on the Big Apple, you'll probably want to know a bit about what this Westgate in New York resort has to offer. The resort's amenities include dry cleaning and laundry services, so you won't have to worry about handling it on vacation. Plus, there's a business center and fitness center to help you keep up with your routines. You'll also be able to enjoy on-site dining at the Tudor City Tavern. This historic bar has an old-world charm thanks to its historic NYC cocktails like Cochran's Apple or the Rag Gang Smoking Gun. This cozy tavern also has plenty of sandwiches so that you won't be going hungry any time soon. Meanwhile, if you'd like something a bit more grab-and-go, swing by the Tudor City Marketplace. The Marketplace offers freshly-baked pastries and Starbucks Coffee, making it perfect to pick up before you head out into the city.
Accommodations at the Westgate in New York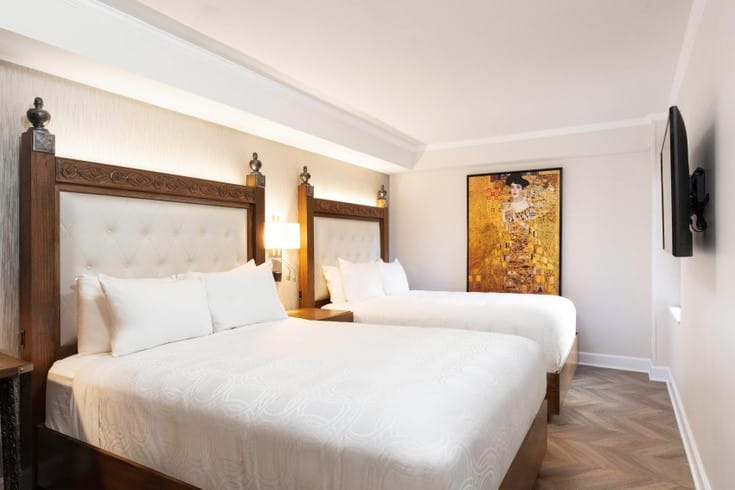 With over 300 rooms at the Westgate in New York, there's bound to be one fit for you. The resort has a variety of different one-bedroom suites. The one-bedroom queen suite features a luxury queen-sized bed and a separate living area with a queen sleeper sofa. Overall, this suite can accommodate up to four guests. There's also a one-bedroom king suite. This suite features a king-sized bed and queen sleeper sofa. Like the queen suite, this suite can house four guests, but unlike that suite, this one comes with a private balcony. As a result, you'll be able to enjoy a gorgeous view of New York City from the comfort of your room. These suites range from 305-420 square feet, depending on which is chosen. They also all come with a flat-screen tv, coffee maker, and a full bathroom with a shower and tub combo.
Things to Do Near the Westgate in New York
One of the best things about the Westgate in New York is its access to the best that the city has to offer. The resort is near Grand Central Station, meaning it couldn't be better positioned to help you make the most of your stay. Here are some things you can do near Westgate New York Grand Central.
The Rockefeller Center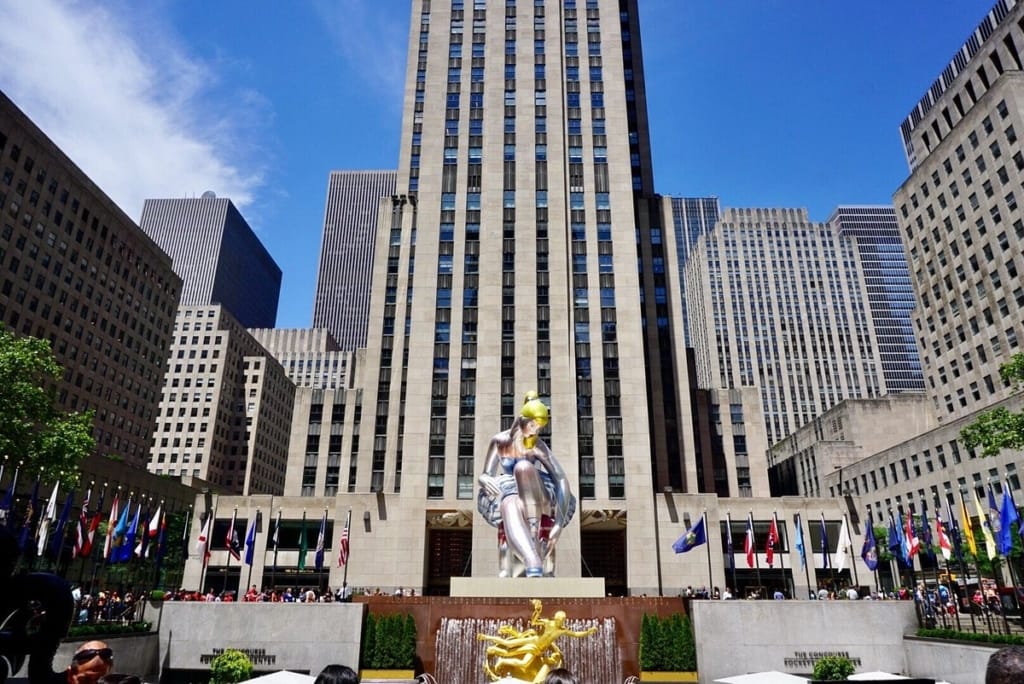 Over a century ago, John D. Rockefeller had the vision to create a "city within a city." Looking at the Rockefeller Center today, it's safe to say his vision came true. The center hosts a collection of art deco motifs and sculptures. There are also 19 buildings filled with tv studios, food, and shopping. Some of the highlights include the Radio City Music Hall, home to the Radio City Rockettes. Just next door is the General Electric Building, where Saturday Night Live, Late Night with Jimmy Fallon, and The Today Show are all filmed. In fact, you can buy tickets to watch the tapings in person! While the buildings are all great, no trip to the Rockefeller Center is complete without seeing the iconic Rockefeller Plaza. The center is just a mile away from Westgate in New York, so you'll have no trouble getting there.
The Broadway Theater District
As the most influential theater district in the U.S., Broadway is a must-see spot for anyone with a love of the performing arts. Broadway is home to over 400 theaters, each of which seats 500 or more guests. From musicals like Hamilton and Hadestown to stage plays like Good Night Oscar and Leopoldstadt, the theater district covers so many different genres that there's sure to be something for everyone to enjoy. Many of these plays are considered classics or contemporary masterpieces, and tickets for them are in high demand. If you want the theater experience of a lifetime, you have to check out Broadway. Plus, the theater district is only half a mile away from Westgate in New York. As a result, you'll be able to walk there while taking in the sights and sounds of the Big Apple.
Times Square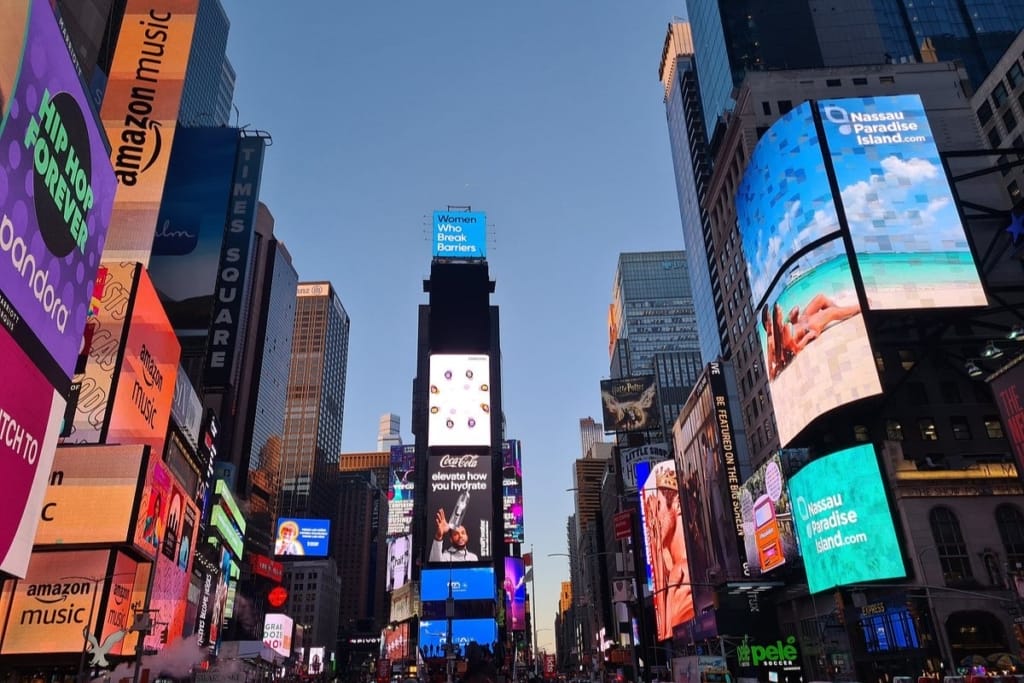 Last but certainly not least, we have Times Square. Located just one mile away from the Westgate in New York, Times Square is a major commercial intersection, tourist destination, and entertainment hub. Originally known as Long Acre Square, this area has dazzled tourists and residents alike with its bright, dazzling lights. This major attraction has stood for over a century and is, in many ways, the heart of the city. The square is home to tons of restaurants with every kind of food you could want. Sushi, burgers, pizza, if you can name it, Times Square has it. Plus, if you're looking for some of the best milkshakes in town, be sure to check out Gayle's Broadway Rose. Times Square is also home to New York's Madame Tussaud's wax museum. There's so much to see at Times Square, so if you're visiting New York City, you have to stop by.
How to Sell or Rent Out Your Westgate Timeshare in New York
It's safe to say that there's a lot going for the Westgate in New York. A fantastic location and great amenities make it an amazing home base for New York trips. With that said, if for any reason you feel like you won't be able to use your timeshare, we're here to help! Timeshares Only has been helping people sell or rent out their timeshares for over 20 years, and as a proud member of ARDA, we follow a strict set of regulations that helps to keep everyone in the industry safe.
If you'd like to part ways with your timeshare completely, we're happy to help you sell your timeshare, but if you plan on visiting it in the future and just aren't using it right now, consider renting it out instead. Renting out your timeshare with us helps you put some money in your pocket while helping to cover your maintenance fees. Either way, we'll work with you to create a listing and market your timeshare to vacationers who might be interested. Ready to get started? Then give us a call at 1-800-610-2734 or email us at info@timesharesonly.com.