Avid golfers may think finding a resort near an incredible golf course is essential. If you are one of those golf lovers, then you are in luck. Marriott Vacation Club has quite a few fantastic resorts near fabulous golf courses. So whether you are looking to exchange your timeshare for a resort with great golf, rent a timeshare for a trip filled with golfing or buy a timeshare that you can visit year after year, Marriott Vacation Club offers some of the best golf resorts. We narrowed down the best Marriott golf resorts to stay in the United States and internationally so you can tee off in style.
Top Marriott Golf Resorts
Marriott Golf Resorts in the United States
Marriott's Canyon Villas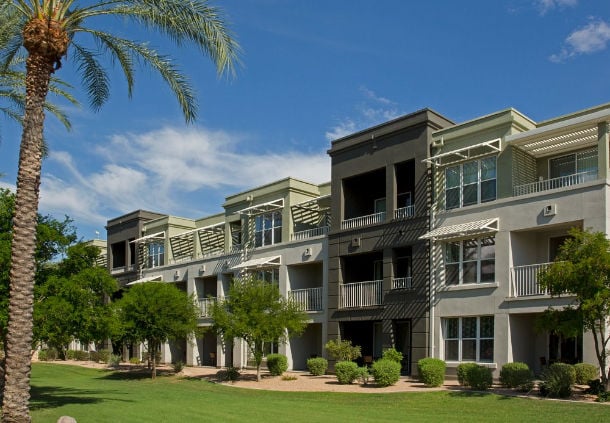 ⚲ Phoenix, Arizona
Come and relax at Marriott's Canyon Villas in the beautiful Sonoran Desert. In this cacti and canyon-filled resort in Arizona, you'll discover a variety of unique experiences. So, participate in an Iron Chef Culinary Challenge or a Cowboy Sing-a-long with the kids. Guests over 21 can enjoy mixology classes and Margarita Fiestas. When you aren't busy golfing or exploring this resort, your two-bedroom villa awaits with a fully equipped kitchen and spacious living rooms.
This resort is adjacent to the courses at JW Marriott Phoenix Desert Ridge Resort & Spa. Arnold Palmer and Nick Faldo designed the two championship courses to highlight Arizona's natural beauty. On 174 acres of land, the Faldo Championship Course stretches up to 6,846 yards and offers an inspired twist on the typical desert course. Palmer Signature Course measures 7,145 yards and provides a scenic golfing experience unrivaled in the region.
Marriott's Grand Residence At Lake Tahoe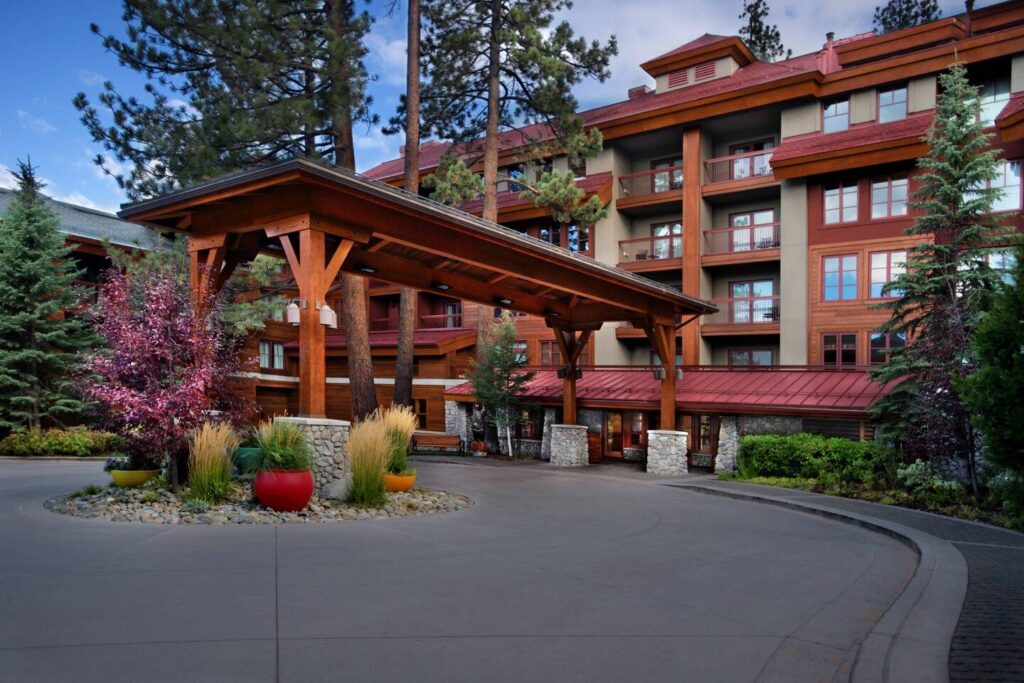 ⚲ Lake Tahoe, California
Located within the Heavenly Village in South Lake Tahoe, Marriott's Grand Residence offers a fabulous vacation to California. This is a perfect ski resort location in the colder months, but guests love the outdoor pool, spa, and activities with kids in the warmer months. Choose to stay in a one- or two-bedroom residence, both offering kitchens and separate living rooms, so there is plenty of space to stretch out and relax.
This Marriott golf resort is near Edgewood Tahoe Golf Course. Since the course's opening in 1968, it has hosted the 1980's USGA US Public Links Championship as well as the 1985's US Senior Open Championship. Professional golfer George Fazio brought his dream course to life. It has been enjoyed by many of the best golfers, including Tiger Woods, Arnold Palmer, Phil Mickelson, John Daly, and Lee Trevino. So, if you want to tee off where the professionals have, this course is the one for you.
Grande Vista, A Marriott Vacation Club Resort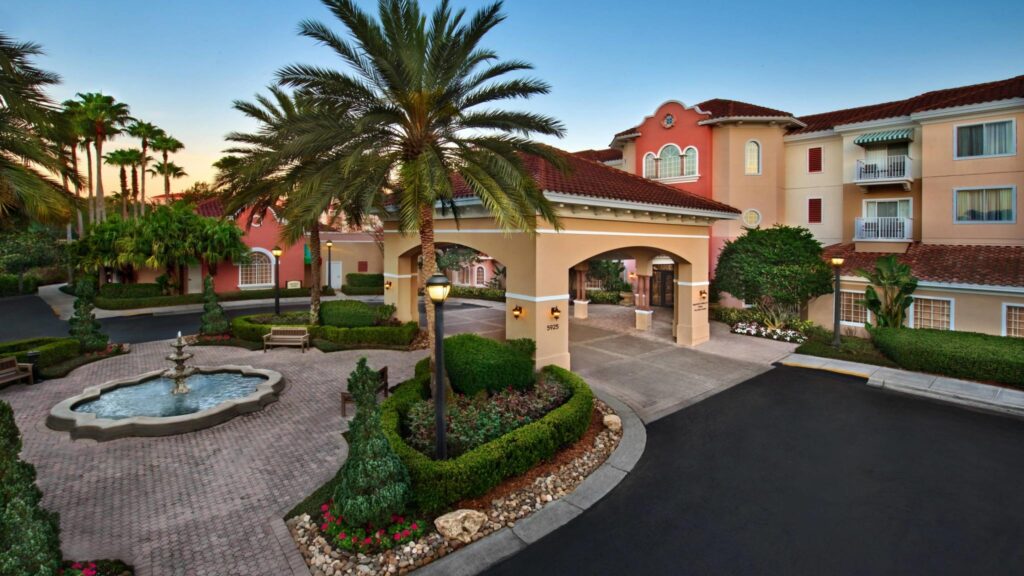 ⚲ Orlando, Florida
A tranquil and fun getaway awaits you at Grande Vista, located in a lush, lakeside setting. The one- to three-bedroom villas feature spacious living areas, separate dining and living areas, a full kitchen, and a kitchen bar. This Marriott timeshare is one of the best interval international resorts to visit. On-site amenities include three outdoor pools, activities for kids, three restaurants, a fitness center, as well as the Spa At Grande Vista.
At the well-manicured nine-hole Grande Vista Golf Club course, you can tee off without having to leave your resort. In addition, the Marriott Golf Academy is available for those looking to improve their game while staying at a Marriott Vacation Club resort. Whether you take a private lesson or spend a day at golf school, the highly experienced PGA career professionals are fully-equipped to help men, women, and juniors of every skill level improve their golfing skills.
Ko Olina Beach Club by Marriott Vacation Club
⚲ Kapolei-Oahu, Hawaii
Ko Olina Beach Club by Marriott Vacation Club is one of the best Marriott Vacation Club resorts, so it's definitely worth a visit. Sitting on the shores of Kapolei on the island of Oahu, guests can stay in well-appointed two and three-bedroom villas at this Hawaiian Ko-Olina resort. Also, family-friendly amenities are available on-site, including heated outdoor pools, whirlpool spas, children's outdoor pools, a play area, an activity center, and restaurants.
Honolulu Star-Advertiser says Ko Olina Golf Club is "Hawaii's Best Golf Course." Located adjacent to this Marriott golf resort, guests have prime access to a day on the course. This 18-hole course was built in 1990 by Ted Robinson with a moderate length, so it was perfect for beginners and experts alike. Also, the Ko Olina Golf Academy offers fun and personalized instruction, featuring a grass driving range, putting green, and one of Hawaii's finest short game practice areas.
SurfWatch by Marriott Vacation Club Resort
⚲ Hilton Head, South Carolina
SurfWatch by Marriott Vacation Club is a golfers paradise in Hilton Head. With its wide range of amenities for every age and interest, this facility is designed to be a self-contained paradise. The surrounding region has beautiful beaches, championship golf courses, recreational opportunities, and southern hospitality. Choose from two- or three-bedroom villas that offer plenty of space for everyone in your party to have privacy, as well as room to relax.
A golf vacation in Hilton Head is an excellent addition to a beach vacation. Three pristine golf courses at Sea Pines Country Club are surrounded by thick patches of pine trees that provide both beauty and excitement. A Par 72 Championship Course, Bear Creek Golf on Hilton Head caters to players of all skill levels. Athletes from all over the country flock to Palmetto Dunes golf courses. They offer three unique, appealing courses created by Robert Trent Jones, George Fazio, and Arthur Hills.
International Marriott Golf Resorts
Marriott Vacation Club's Village d'ile-de-France
⚲ Bailly-Romainvilliers, France
The two- and three-bedroom townhouses in this French resort have amenities featuring kitchens, spacious living areas, washer/dryers, furnished patios or terraces, and bright bathrooms with soaking tubs. So, feel right at home when staying in a townhouse or studio at Village d'ile-de-France. In addition, the resort includes an owners' clubhouse, several pools, spas, barbecue and picnic areas, exercise facilities and a health club, planned activities, grocery, and security.
The Golf Disneyland 27-hole golf course surrounds the resort. Three nine-hole courses are available seven days a week. The courses can be combined in various ways for unique 18-hole rounds. The Club House's fully licensed bar and restaurant terrace is perfect for watching some golf while enjoying lunch in the sun. In addition, there are also showers, changing rooms, and a pro shop at the Club House. Disney's golf pros can guide and advise you if you are looking for lessons or training.
Marriott's Club Son Antem
⚲ Llucmajor, Spain
Marriott's Club Son Antem offers a vacation to Spain filled with unforgettable memories. Guest can stay in two- or three-bedroom townhouses filled with top-of-the-line appliances. Separate living and dining areas are provided in each townhouse, as well as whirlpool bathrooms, kitchens, and laundry facilities. Whether you swim in the pool or work out in the fitness center, there are endless things to do on-site. Additional amenities include a restaurant, activities for kids, tennis courts, as well as a spa.
There are two beautiful on-site 18-hole courses at this Marriott golf resort. The East Course and West Course are both challenging and surrounded by the natural beauty of Mallorca. An array of facilities is available on the course, including driving ranges, putting greens, restaurants, packages, and junior programs. In addition, you can rent clubs, so you don't have to worry about traveling with your clubs. Summer tee times are 7:15 a.m. to 8 p.m., whereas in the winter tee times are 7:15 a.m. to 6:30 p.m.
St. Kitts Beach Club, A Marriott Resort
⚲ Frigate Bay, St. Kitts and Nevis
Visiting St. Kitts Beach Club, a Marriott Resort will bring you fantastic beaches, breathtaking views, and a chance to experience the island's natural beauty. Enjoy a massage at the Emerald Mist Spa, a relaxing swim at one of three pools, or a night of gambling at the Royal Beach Casino. So, no matter your interests, there is something fun for everyone. Other amenities include a restaurant, sauna, exercise facility, and a grocery store. The first-class accommodations are offered in two- and three-bedroom villas.
Royal St. Kitts Golf Club is adjacent to this Marriott golf resort for easy access. This par-71 golf course stretches across 125 irrigated acres overlooking the water and has ten water hazards and 80 bunkers. The views are stunning, the holes are challenging, and the staff is fabulous. In addition, club rentals and lessons are available. So, what more could you want from a golf course? Visit Royal St. Kitts Golf Club while staying at St. Kitts Beach Club and receive special offers and discounts.
Buy or Rent a Marriott Golf Resorts
We have timeshares for rent and sale at these incredible Marriott golf resorts. So, whether you tee off at Grande Vista Golf Club course in Orlando or Golf Disneyland in France, you are in for a treat. Firstly, start by browsing our Marriott Vacation Club selection. Then, simply make an offer once you find the one for you. Contact us today at 1(800) 213-7733 for assistance or if you have any questions!