Recent studies from the American Resort Development Association (ARDA) show that timeshare sales are up globally and in key markets. New York, Miami, Los Angeles, Orlando and more are seeing greater vacation ownership sales according to this timeshare industry overview. Timeshares resales are also experiencing a dramatic upswing. Along with increased occupancy rates, more families show interest in the vacation ownership product.
The timeshare industry is seeing a coming-of-age scenario with companies attracting younger, more educated, more affluent buyers because of consumer changes. The industry continues to make vast improvements, becoming more consumer-friendly and more transparent, largely from major hospitality chains such as Wyndham, Hilton, Hyatt, Ritz-Carlton, Starwood, and Four Seasons.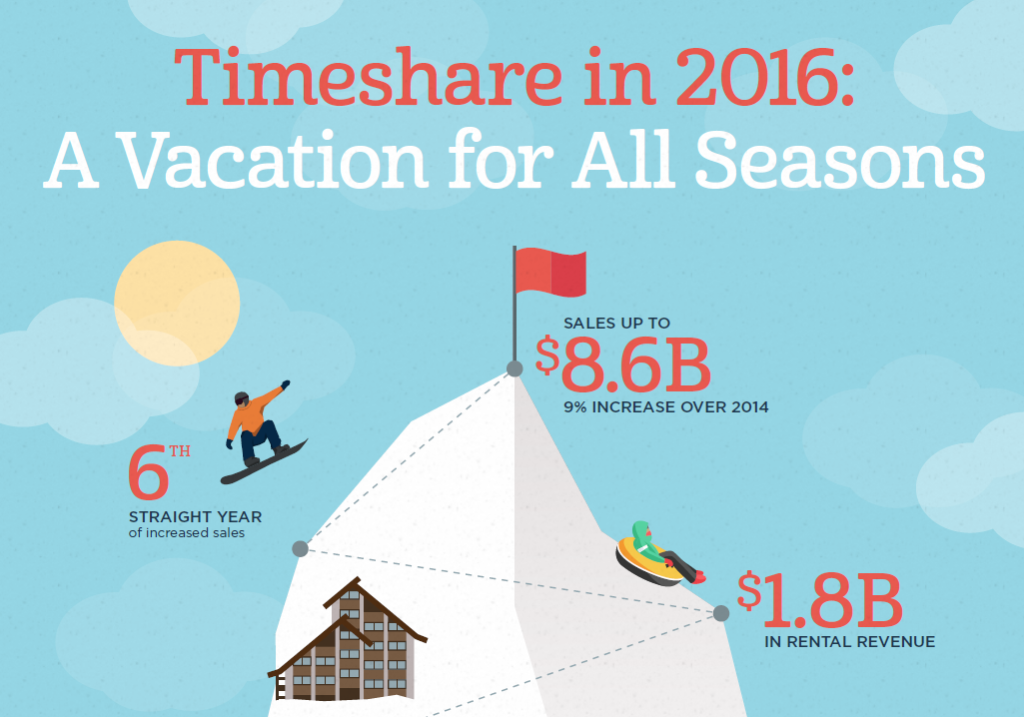 Exponential Growth in the Timeshare Industry
According to timeshare industry overviews, there has been a major shift in the age and demographics of vacation owners. Though the average median age of timeshare owners in 2015 was 51, the concept of timeshare resounds loudly with younger people. New timeshare owners are younger, better educated, more affluent and diverse. These buyers are looking for ways to enhance their family vacations with more space, for everyone to truly unwind, and expect a lot of amenities and experiences for everyone in the family.
In 2014 the ARDA's report shows $17 billion in worldwide timeshares sales and over $19.5 billion in 2015. That is over an 11% increase! The demand for timeshares has blossomed and occupancy rates are also hedging continuous growth. The study showed that 2014 occupancy rates were at 74% in 2014 and up slightly to 79% in 2015. Combine these factors with 5,400 vacation ownership resorts in over 120 countries accounting for this increase in sales and occupancy rates, which are also accompanied by diverse products and greater experiences.
Timeshare business was also responsible for stimulating the economy by creating over one million new jobs in 2015. The overall output has amassed to over $57 billion dollars per year and contributes to promote the world's global economy. It's clear that this data proves the overall market is healthy and showing consistent growth. Vacationers are very aware of the value presented by timeshare ownership. It gives the consumer freedom, time, and the ability to choose from multiple destinations all over the world. Timeshares give your family more accommodating spaces as an alternative to hotels which means more enjoyment.
The spike in timeshare sales, occupancy rates, and the overall growth of the timeshare industry shows it's consistently performing. In 2017, ARDA expects to see 91 new resorts, which will create an estimated 7,300 new units. This will create a land grab type of scenario for consumers to buy affordably, easily and present owners more options for other locations which, in the end, means more opportunities.

Sell Your Timeshare with Timeshares Only