There's no better way to experience a vacation in Hawaii than by taking a sight-seeing excursion at the best Hawaii waterfalls. Whether you're heading to the Big Island, Maui, or Oahu, make sure to take a hike or tour to visit Hawaii's most gorgeous natural waterfalls.
Hawaii Waterfalls on the Big Island
Spending your Hawaii vacation on the Big Island? With white, black, and even green sand beaches, the Big Island offers thrilling adventures in the great outdoors. Thanks to the humidity and rain, waterfalls on the Big Island are some of the most popular spectacles to visit.
'Akaka Falls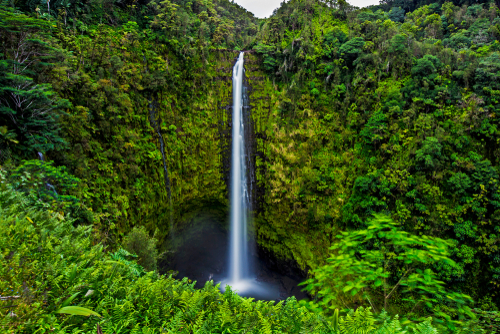 'Akaka Falls is a favorite among tourists because of the low-risk trek and high-reward beauty. To get to the 422-foot-tall waterfall, you'll take a pleasant 0.4-mile hike through a lush rainforest full of wild orchids and bamboo groves. Take the 'Akaka Falls Loop Trail directly from the parking lot to get a glimpse of the gorge from multiple viewpoints.
If you decide to travel to 'Akaka Falls, admission is $5 to park. Pedestrians only pay $1 per person for admission.
Umauma Falls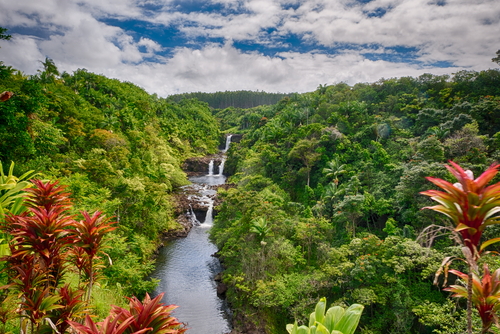 Located off the Umauma River, the Umauma Falls are three waterfalls within close proximity to each other and lies on private land, managed by the Umauma Experience. Access to the falls costs $12 per person, but visitors also get access to the Umauma Falls gardens. What's more, guests can drive-up for easy viewing or enjoy ziplining, river swimming, or stroll through the beautiful gardens.
Where to Stay on the Big Island
After sight-seeing some of Hawaii's best waterfalls on the Big Island, you'll want a luxurious and comfortable resort to head back to. Hilton Grand Vacations has several resorts in Hawaii, including the Bay Club at Waikoloa Beach. Unwind at one of two swimming pools, check out the tennis courts, and take in the incredible views of Waiulua Bay. Browse Bay Club at Waikoloa Beach timeshares for sale to secure one or two-bedroom suites every year, complete with fully-equipped kitchens, as well as washers/dryers. We also have Bay Club at Waikoloa Beach vacation rentals available when you call our rental department at 1-800-334-1846.
Maui Hawaii Waterfalls
The Valley Isle is the second largest island of Hawaii with world-famous beaches, the sacred Iao Valley, and views of the incredible migrating humpback whales. Not to mention, the Haleakala sunrise and sunset makes Maui one of the best islands in the United States. Make sure to plan some sight-seeing of this Hawaii island's waterfalls on your trip to Maui.
Upper Waikani Falls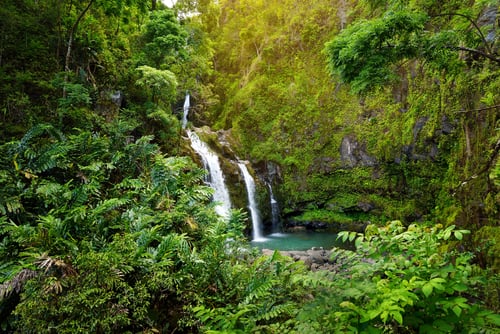 Also known as the Three Bears, the Upper Waikani Falls is a trio of side-by-side waterfalls that are easily accessible. Right off the Hana Highway, visitors can take a short hike to reach to reach them. Locals advise you bring your swimming hear for a splash in the natural pool at the bottom of the plummets.
Makapipi Falls
Have a two-in-one tour of Hawaii's waterfalls on Maui when you visit the Makapipi Falls, also located along the Hana Highway. The vantage point of Makapipi Falls is from above, where you'll get a birds-eye view of the falls and pool below. Get a good glimpse from the bridge that goes over the Makapipi stream.
Lower Puohokamoa Falls
The Lower Puohokamoa Falls are a hidden gem that's easy to miss but not easy to forget! This 200-foot waterfall has a narrow and slippery trail, so it might not be best to bring the littles ones for this excursion. However, previous on-lookers say it is worth the trek for the incredible view.
Where to Stay in Maui
Hyatt Residence Club offers one of the best resorts on the island of Maui, the Ka'anapali Beach Resort. This property sprawls across 40 acres of oceanfront land with panoramic views of both the mountains and Pacific Ocean. Enjoy poolside bars in man-made caves, on-site cafe, and even a spa for total relaxation. Owners love coming back to the Ka'anapali Beach Resort year-after-year. If you've been thinking about vacation ownership, take a look at Ka'anapali Beach Resort timeshare resales available at a fraction of the cost. Of, if you want to try the resort out before you buy, you can also check out Ka'anapali Beach Resort vacation rentals.
Hawaii Waterfalls in Oahu
One of the most popular Hawaiian islands to visit, Oahu has a plethora of activities for the entire family. Besides experiencing the great outdoors with Hawaii waterfalls, Oahu also offers a great nightlife scene, shopping, and golfing. Marriott Vacation Club resorts in Hawaii include the best places to stay while you're visiting Oahu. Get the best of both worlds, after visiting magnificent waterfalls, of course.
Waimea Falls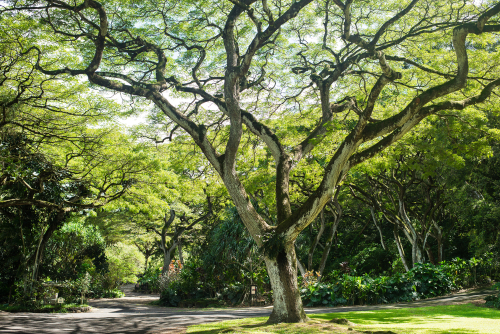 Take a trip out to the Waimea Valley to see the 45-foot Waimea Falls. Located in a botanical park, you'll find attractions for all visitors as well as cultural activities. What's more, the trail to Waimea Falls is paved, so families with little ones don't need to stress about slippery conditions. Once you reach the falls, there's a changing room, free life vests, and lifeguard on duty, making this one of the safest waterfalls to visit in Hawaii. Admission is not free, but is well worth it for a safe and fun experience!
Manoa Falls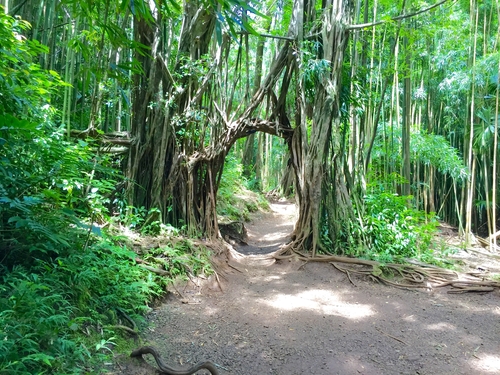 Within close proximity to Waikiki, Manoa Falls is known for being one of the most popular sights in Oahu. A well-maintained path takes visitors 1.6 miles to see the 150-foot waterfall, so it's very beginner-friendly and convenient. Be prepared for lots of crowds and foot-traffic, as this is truly a sight that should not be missed.
Where to Stay in Oahu
Marriott's Ko Olina Beach Club is a favorite among Oahu tourists, and for good reason. Outstanding amenities and accommodations will make your vacation comfortable and relaxing. The resort itself is within a beautifully landscaped and gated community, just steps away from the Pacific Ocean. Lounge at one of three outdoor pools, or rejuvenate with a massage at the on-site spa. Marriott is considered one of the best vacation clubs to join and with good reason. Enjoy the flexibility of using points to experience Marriott's top resorts. Browse Marriott's Ko Olina Beach Club timeshare resales available now. Or, take a look at Marriott's Ko Olina Beach Club vacation rentals.
Hawaii Vacation Rentals and Timeshares for Sale
When you're planning your trip to see Hawaii waterfalls across every island, make sure to check out our Hawaii vacation rentals from top resorts for a great deal. Residence-style resorts offer spacious accommodations and incredible amenities. Or if you're ready to make vacations to Hawaii a reality every year, you can browse Hawaii timeshares for sale at a fraction of the cost than buying directly from a developer. Take a look at Hawaii luxury resorts for inspiration.