A giant leap for mankind was taken at Cape Canaveral decades ago when aerospace and technology were born. The small city is as much about space as it is about warm shoreside breezes and crystal clear channels. Cape Canaveral beach is one of the best beaches in Florida, making it a prime vacation spot. The Kennedy Space Center and all of Cocoa Beach's attractions are just minutes away from Cape Canaveral Beach. In addition, an Orlando day trip is perfect if you want to spend time at Disney World, Universal Studios, or any of Orlando's many world-famous attractions. Whether you plan to venture out or stay in Cape Canaveral, you're in for a memorable treat when staying at one of these Cape Canaveral beach resorts.
Cape Canaveral Beach Resort
Florida has been deemed the Sunshine State for a reason. There is amazing weather year-round, with an average of 237 sunny days per year. So, your visit to Cape Canaveral will be full of beautiful weather in the summer, during spring break, or wintertime. There is no wrong time to visit a Cape Canaveral beach resort.
Holiday Inn Club Vacations Cape Canaveral Beach Resort
A unique experience awaits guests at Holiday Inn Club Vacations Cape Canaveral Beach Resort. This Holiday Inn Club Vacations resort is the perfect escape for a tranquil getaway that is also exciting for the kids. The picturesque beaches paired with views of rockets launching from Kennedy Space Center make it nearly impossible to run out of things to do at this timeshare resort that spans over 10 acres.
Cape Canaveral Beach Resort Amenities and Accommodations
You'll enjoy various amenities at Holiday Inn Club Vacations Cape Canaveral Beach Resort. These amenities are great to keep you busy but also relaxed. Spend the day playing a friendly game of mini-golf, floating on the lazy river, or watching a movie in the theater. Other amenities include an activity center, arcade, playground, pools with hot tubs, as well as a four-story waterslide. In addition, Cape Grill & Bar is an on-site casual dining option with a diverse menu.
A range of accommodations is offered from one-bedroom villas all the way to four-bedroom villas. Each spacious villa has a full kitchen with a refrigerator, microwave, coffee maker, and complimentary coffee supplies. So, you can enjoy a home-cooked meal while on the trip. There are separate living rooms, so you have plenty of space to stretch out and relax after a day in the sun.
Things To Do Near Cape Canaveral Beach Resorts
Cape Canaveral has so many incredible things to do near your resort that make for a unique vacation. Whether you visit Kennedy Space Center, explore nature, or wine and dine, there are lots of memories to be made in Cape Canaveral.
Visit Kennedy Space Center
As mentioned before, Cape Canaveral is home to Kennedy Space Center, where American astronauts faced and overcame space flight challenges. A visitor center is available for those wanting to learn about Kennedy Space Center. Chat with an Astronaut, the newest experience available to visitors. It offers an intimate casual setting where the Astronaut of the Day has a live Q&A to give you answers to all your pressing questions. This one-of-a-kind experience is offered twice daily at 10 a.m. and 2 p.m. Make sure to get your tickets in advance because spots are limited. Another cool feature at the visitors center is LEGO Build to Launch. LEGO Space Team's digital learning series introduces STEAM concepts, careers, and technology behind the Artemis I mission. Guests can also explore NASA's space shuttle program, learn about the space pioneers, visit the Apollo/Saturn V Center, and see NASA's Space Launch System.
Explore Nature
Canaveral National Seashore is the longest stretch of the undeveloped Atlantic Coastline. Over the 24 miles of undeveloped beach, 1,045 plant species and 310 bird species exist. Playalinda Beach is an excellent location if you want to be closer to the launch action. NASA restricts incoming traffic on the mornings of launches, so getting there a few hours early is essential. Summer launches occur between 6 a.m. to 8 p.m. and 6 a.m. to 6 p.m. in the winter. Fishing is another excellent activity popular at Canaveral National Seashore. Grab your gear and enjoy a day fishing from land or a boat. There are fabulous hiking opportunities in the Apollo Beach region of Canaveral National Seashore as well. To access Hike Castle Windy Trail, park in area three, and you will find the trail on the west side. Regardless of why you visit, make sure to clean up after yourself.
Wine and Dine
If you love seafood, you'll enjoy the many fabulous options available due to Cape Canaveral's location on the water. Rusty's Seafood and Oyster Bar's family-friendly atmosphere makes for a fun dinner location. Order oysters, seared ahi tuna, snow crab legs, clam chowder, or buffalo wings as your main dish. Then wash it down with an ice-cold pitcher of beer, a fruity cocktail, or soda. Another great option for seafood is Grills Seafood Deck and Tiki Bar, right on the water. There is an extensive menu with everything from Impossible burgers to poke bowls to plates of pasta. Visit Wednesday to Sunday if you want live music. Then, to commemorate your dinner, buy a tee shirt on the way out. 321 Lime House and Florida Brewers Guild are very popular amongst 21+ travelers to Cape Canaveral. Enjoy a beer on tap, sip on a tropical hard cider, or try out a new IPA.
Resorts Near Cape Canaveral Beach
Cocoa Beach has more timeshares than Cape Canaveral, so staying at one of these resorts is a good alternative if you want to be close by to visit Cape Canaveral. So, here are some of our favorite timeshare resorts in Cocoa Beach, perfect for renting or purchasing.
Westgate Cocoa Beach Resort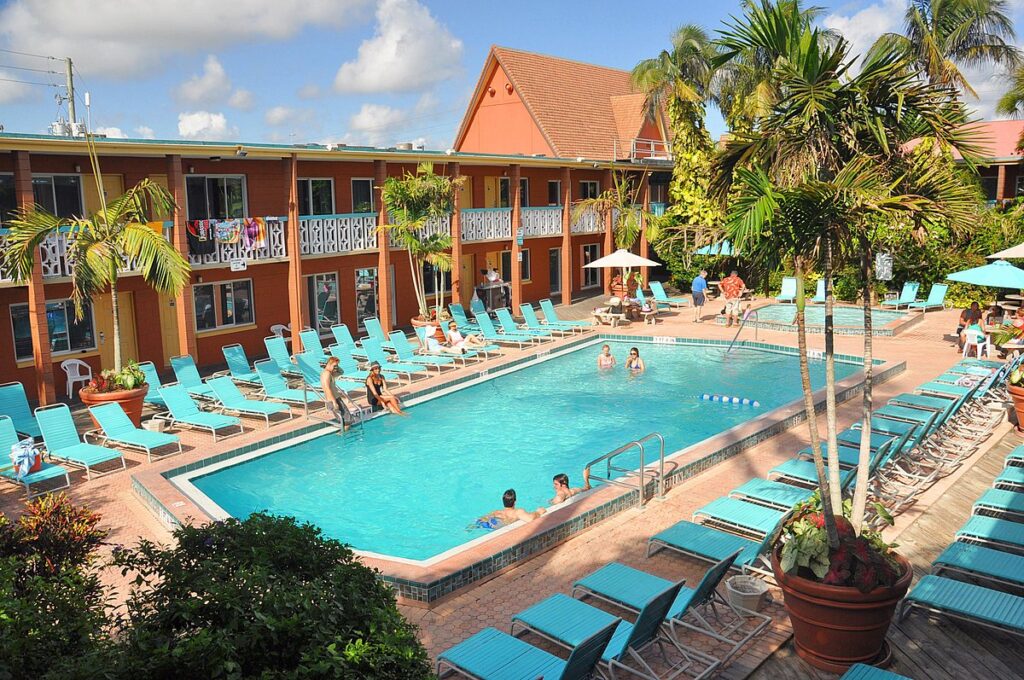 Situated on Cocoa Beach's white sands, Westgate Cocoa Beach Resort is an amazing oceanfront timeshare. This Westgate resort boasts a 335-foot lazy river, a pool, and water slides at its Wakulla Falls Water Park. Each two-bedroom villa has a full kitchen, as well as a large living room that comfortably fits the whole family.
Discovery Beach Resort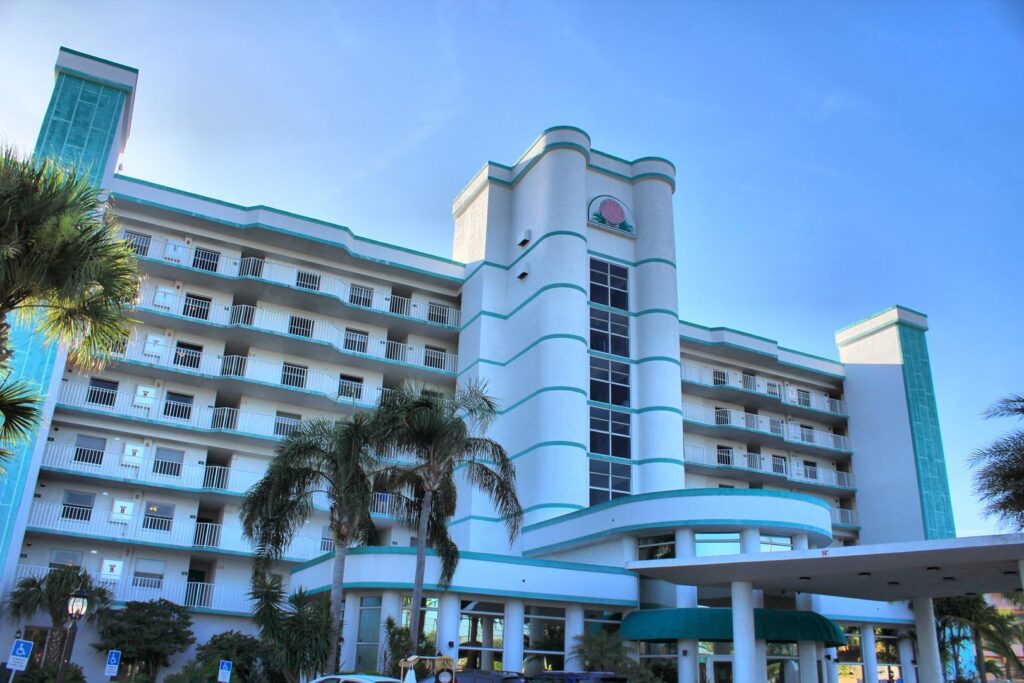 You will be right in the heart of the action with Discovery Beach Resort's convenient beachfront location! A tiki bar at the pool and water aerobics are among the fun amenities at this resort. A stay at this resort will make you feel right at home with one-, two-, or three-room villas. Villas feature amazing balconies, a full kitchen, and spacious living areas.
The Resort On Cocoa Beach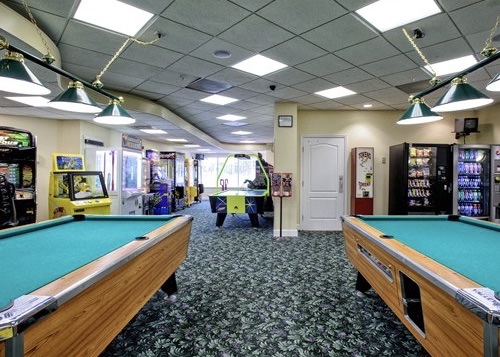 There are only 50 feet between The Resort On Cocoa Beach and the beach. You will find on-site amenities such as a pool, a movie theater, a game room, and sports courts. Two-bedroom units are available to owners at the Resort on Cocoa Beach, which can accommodate up to six people. Modern appliances are included in the kitchen of each unit, as well as furnished balconies.
Buy or Rent a Cape Canaveral Beach Timeshare
You have come to the right place if you are looking to buy or rent a timeshare in or nearby Cape Canaveral, Florida! We have timeshares for rent and sale in Cape Canaveral, so start by browsing our Cape Canaveral selection. Then, once you find the one for you, make an offer. If you have any questions, don't worry; we are here to help make your process as seamless as possible. Contact us by calling 1(800) 213-7733 today for assistance!