With over 20 properties scattered across the country, it's safe to say that if you're visiting a popular vacation spot, you'll find a Westgate there. Westgate owners love going back to their Home resorts every year, so we've compiled a list of the best Westgate resorts to explore. These resorts have an extensive list of world-class amenities and are located in some of the most sought-after vacation destinations. Whether you are looking for timeshares to rent for your next Orlando vacation, or you want to purchase a Westgate timeshare on the resale market, take a look at some of the top choices.
Westgate Resorts Locations
There are over 20 Westgate resorts in the most sought-after locations in the United States. From the clear blue waters of Myrtle Beach to the sky high mountains of Branson, you'll be able to see the best the country has to offer with Westgate.
Branson, MO
Cocoa Beach, FL
Daytona, FL
Gatlinburg, TN
Las Vegas, NV
Mesa, AZ
Miami, FL
Manhattan, NY
Myrtle Beach, SC
Orlando, FL
Park City, UT
Pigeon Forge, TN
River Ranch, FL
Williamsburg, VA
Westgate Las Vegas Resort & Casino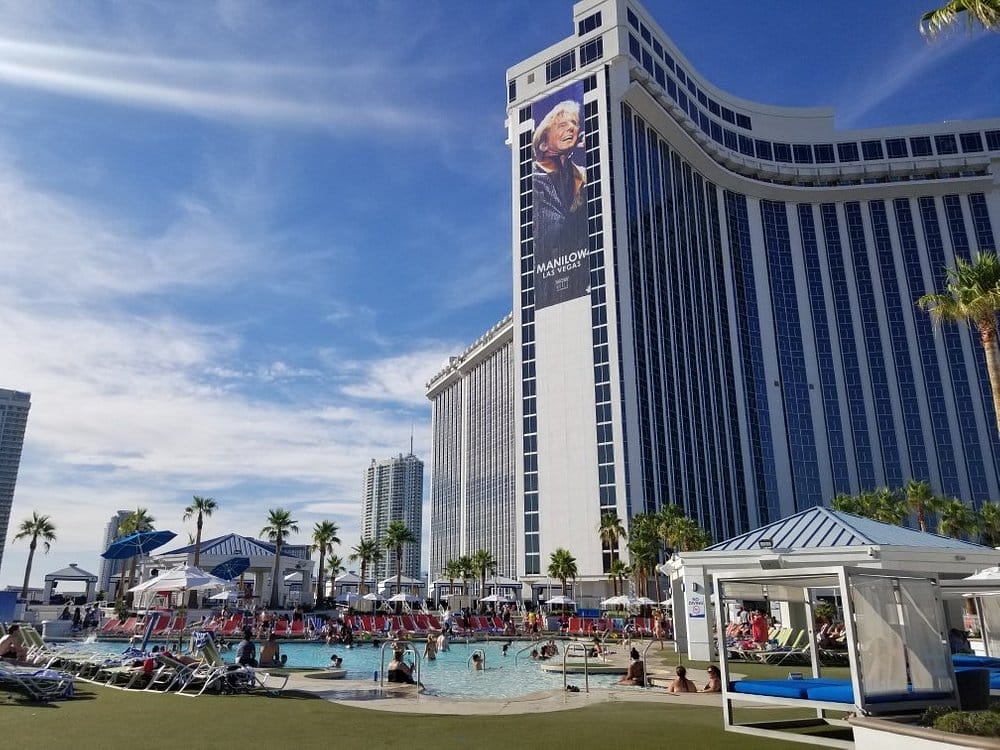 Westgate Las Vegas Resort & Casino is found near the famous Las Vegas Strip, home of the best casinos in the country. This luxurious and legendary world-class destination has some of the best amenities found in Sin City. Paired with a variety of rooms and suites to choose from, as well as an abundance of onsite amenities, you won't be disappointed with your stay at Westgate Las Vegas Resort & Casino. What's more, this property is home to the largest Race & Sports Book and excellent customer service. Better yet, guests can enjoy a stop along the Monorail for easy access to the rest of the excitement on the Las Vegas Strip.
Amenities at Las Vegas Resort & Casino
As one of the best Westgate resorts in the country, this property is packed with amenities and activities the entire family will enjoy. Thirteen on-site restaurants will satisfy any craving or time crunch, with four quick eat spots, as well as five fine-dining restaurants. Enjoy entertainment and a meal at Benihana, or have a snack while soaking in the sun at the Pool Grill.
Pet-friendly
13 restaurants
Serenity Spa
Outdoor pool & hot tub
Private cabanas
Housekeeping
Concierge
Shopping
Tennis courts
Casino
Live entertainment
Las Vegas Monorail Station
Buy Las Vegas Resort & Casino Timeshare Resale
Las Vegas is, without a doubt, one of the best vacation destinations when you need a trip that's luxurious and exciting. Make it a tradition year after year when you buy a Westgate Las Vegas timeshare resale. You can find Westgate timeshares for sale on the secondary market for less than purchasing directly from Westgate. What's more, you'll have the comfort of browsing in your own home without going to a presentation. If you have any questions or are interested in a timeshare posted for sale, call us now at 1-800-610-2734 or email info@timesharesonly.com.
Westgate Vacation Villas Resort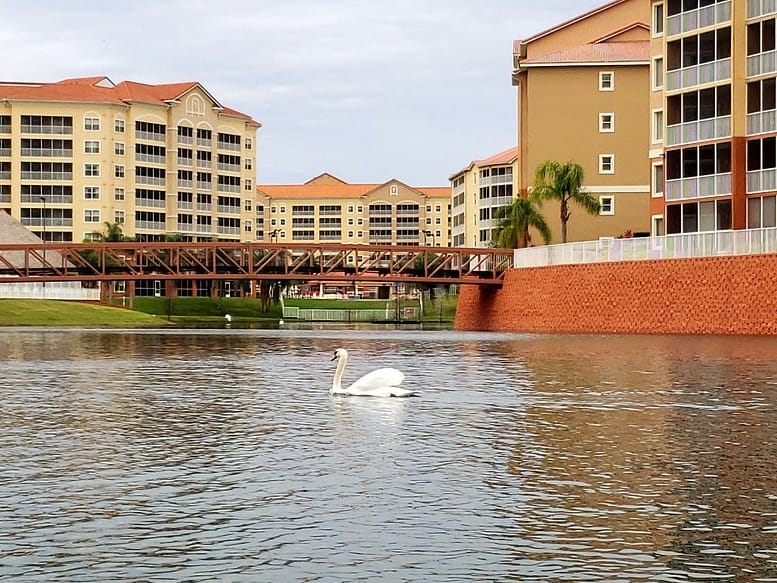 With its central location in Kissimmee, Florida, Westgate Vacation Villas Resort is just minutes away from Walt Disney World. Vacation Villas is a family-friendly resort that provides all of the comforts of your home but in one of the world's most desired vacation spots. Accommodations range in size for parties of 2 or even parties of 10. Not to mention, all within minutes of great restaurants and fun for guests of all ages. This resort is also home to an onsite Shipwreck Island Water Park with a lazy river, water slides, splash pad, and more!
Amenities at Vacation Villas Resort
You'll feel like you're already at the parks with all of the amenities at Westgate Vacation Villas Resort. A waterpark, 14 pools, 14 hot tubs, as well as a mini-golf course will keep you, and the entire family entertained for days. When you're not out exploring the best things to do in Orlando, you'll be enjoying all of the incredible amenities and activities at one of the best Westgate resorts!
Pet-friendly
14 outdoor pools
3 tennis courts
13 spa tubs
Arcade/game room
Mini golf
Shuffleboard
Volleyball court
Boat rentals
Free bicycle rentals
Children's pool
Disney movie theater
Fitness center
Horseshoes
24-hour business center
Concierge
Housekeeping
6 on-site restaurants
6 poolside bars
Buy Vacation Villas Resort Timeshare Resale
If you're looking to stay at one of the best Westgate resorts in Orlando, you won't be disappointed at this property. Orlando is a year-round vacation destination, making trips here easy and enjoyable. Bring the family every year when you buy a Westgate Vacation Villas Resort timeshare resale. With timeshare resales, you get most of the same perks and benefits of ownership for much less money. Browse our timeshares posted for sale by the owner today.
Westgate Smoky Mountain Resort & Water Park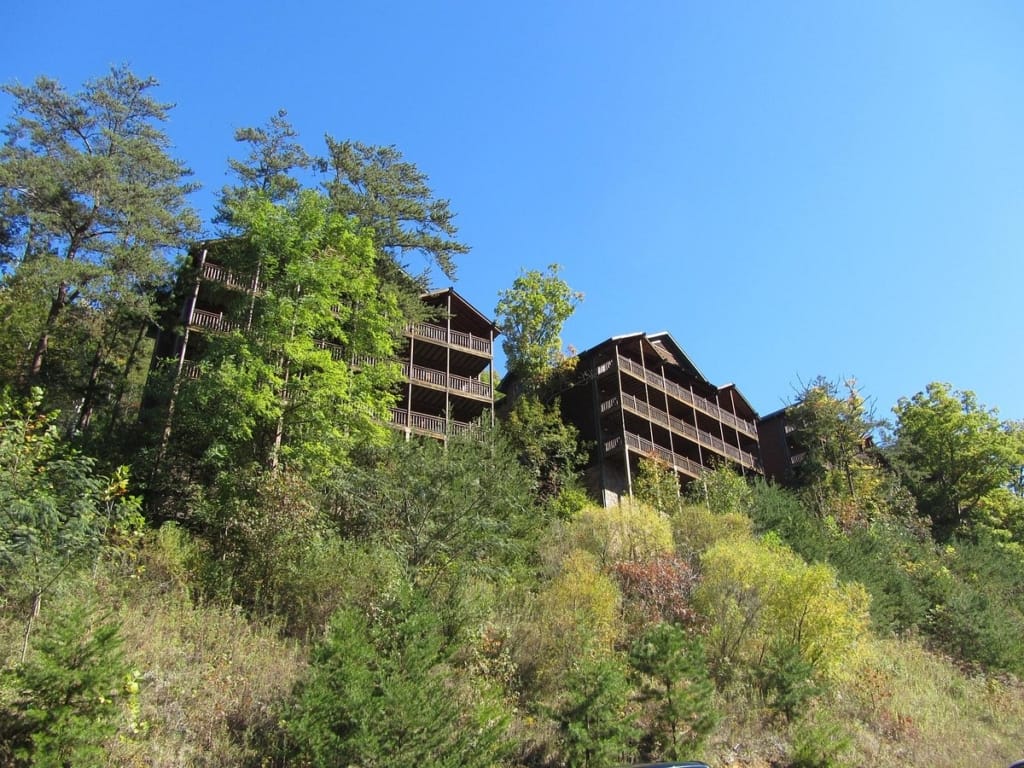 What's better than the smoky mountains? A beautiful resort and spa with a water park! Found in the quaint city of Gatlinburg, Tennessee, is the Westgate Smoky Mountain Resort & Water Park. Wild Bear Falls is a world-class, mountain-themed, heated indoor Gatlinburg water park for families of all ages. This just so happens to be a favorite amongst Westgate owners because of its close proximity to the mountains as well as activities right on-site.
Amenities at Smoky Mountain Resort & Water Park
Enjoy a seamless blend of both the great outdoors and family fun when you stay at the Westgate Smoky Mountain Resort & Water Park. The indoor water park is open year-round, so you can splash around whether the weather is too cold or too hot. Float down the lazy river or adventure through the interactive "treehouse." For adults, the Serenity Spa on-site offers massages, facial treatments, and more.
Pet-friendly
Housekeeping
On-site restaurant
Marketplace & Deli
Snack bar
Pool bar
Business center
Indoor water park
Spa
Aerobics classes
Picnic areas
Mini golf
BBQ grills
Playground
Fitness center
Flying Bear Zipline
Buy Smoky Mountain Resort & Spa
Gatlinburg is both a winter wonderland as well as an outdoor playground in the summer. Outdoor enthusiasts love to vacation in Gatlinburg to have a laid trip while reconnecting with nature. Make annual trips to the Smoky Mountains possible when you buy a Westgate Smoky Mountain timeshare resale.
Westgate Park City Resort & Spa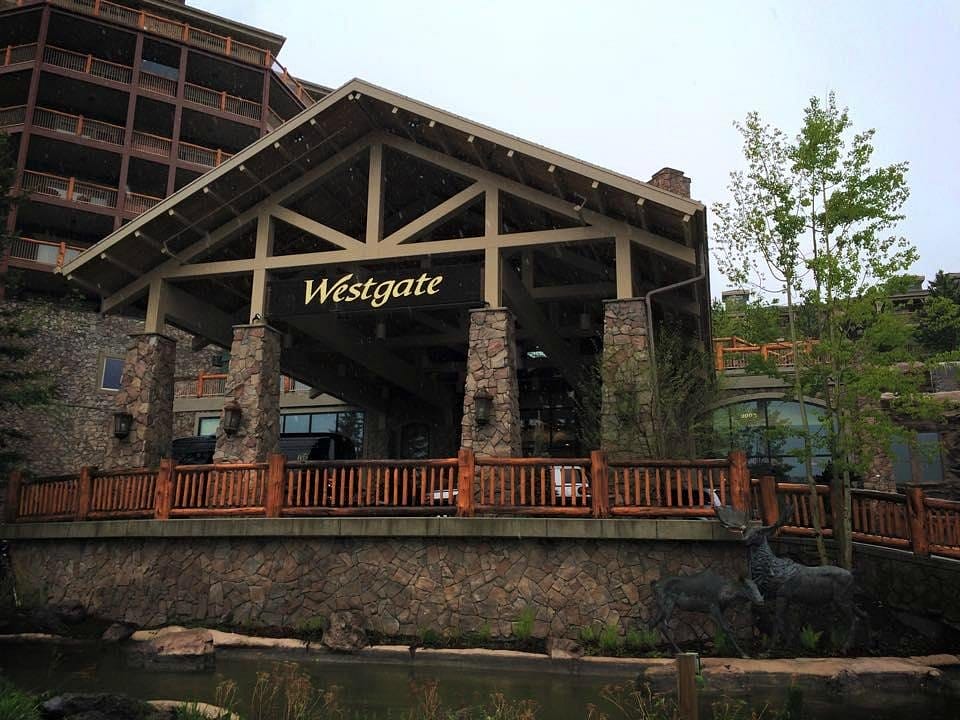 Where luxury and fun meet, Westgate Park City Resort and Spa resort has world-class amenities and lavish accommodations, accompanied by a Serenity spa for maximum relaxation. On that note, if you're less into relaxing and more interested in hitting the slopes, enjoy the breathtaking view at the top of top-rated slopes. But don't worry; we also won't forget to mention that out of the best Westgate resorts owners love, this one was awarded the best ski resort in Utah.
Amenities at Park City Resort & Spa
A must-do when you visit the Westgate Park City Resort & Spa is making a reservation for the Alpenglobes at Edge Steakhouse. These globes provide a romantic and secluded dining experience under the stars and snowfall. Each globe has infrared heating, as well as panoramic seating for up to four guests.
Pet friendly
Free wifi
Business center
Two restaurants
Coffee bar
Marketplace
Indoor & outdoor pools
Poolside bar
Picnic area
Arcade/game room
Tennis court
Playground
Basketball court
Bicycle rentals
Kids club
Spa
Fitness center
Westgate Cocoa Beach Resort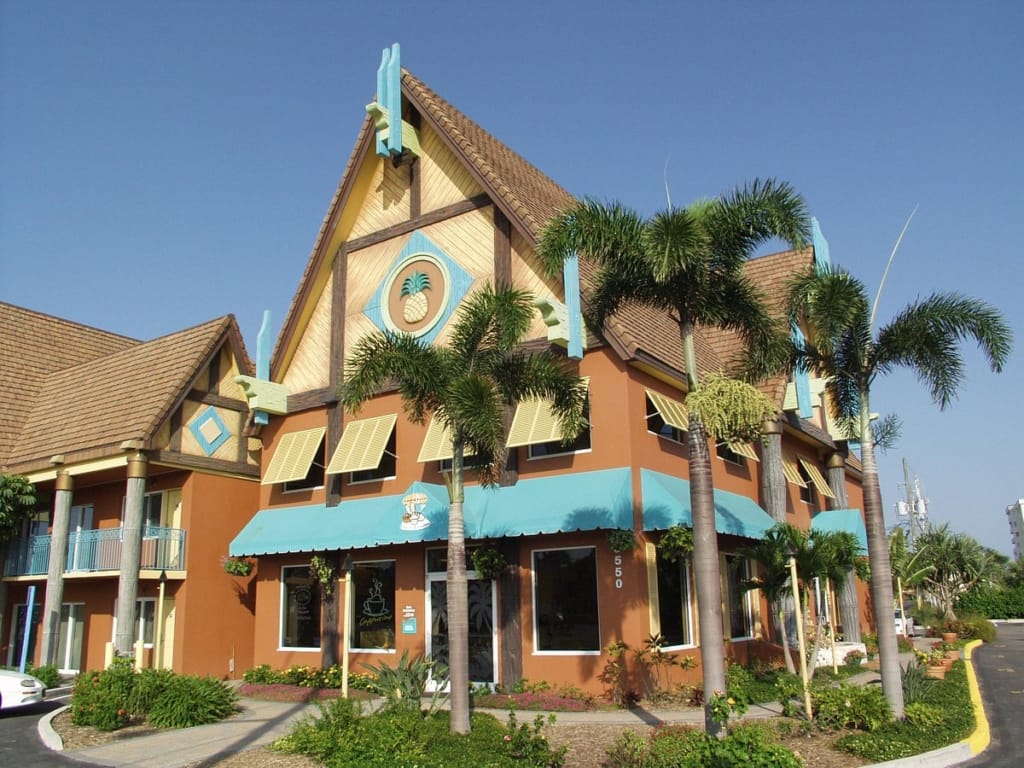 What's better than Florida beaches? Florida's most luxurious resort hotel, on the beach! The Westgate Cocoa Beach Resort is an experience that owners rave about, from complimentary poolside and beachside service to the new waterpark for ultimate fun. This resort features spacious two-bedroom suites with a luxurious feeling like no other.
Amenities at Cocoa Beach Resort
Formerly known as the Wakulla Suites, this property has undergone major transformations over the years. Not to mention, Westgate owns the Cocoa Beach boardwalk, famous for the massive Ron Jon Surf Shop. This property is perfect for guests of all ages. The Wakulla Falls Water Park is right in the heart of the resort and features fun water features. For mom and dad, the Maku Lanai Adult Relaxation Zone is just steps away from the park with rattan lounge chairs and firepits.
Pet friendly
Housekeeping
Concierge
Chair/umbrella rentals
On-site bar and cafe
Business center
Six wristbands for the on-site waterpark
Pool
Jacuzzi
Firepit
Bbq grills
Picnic area
Fitness center
Westgate Flamingo Bay Resort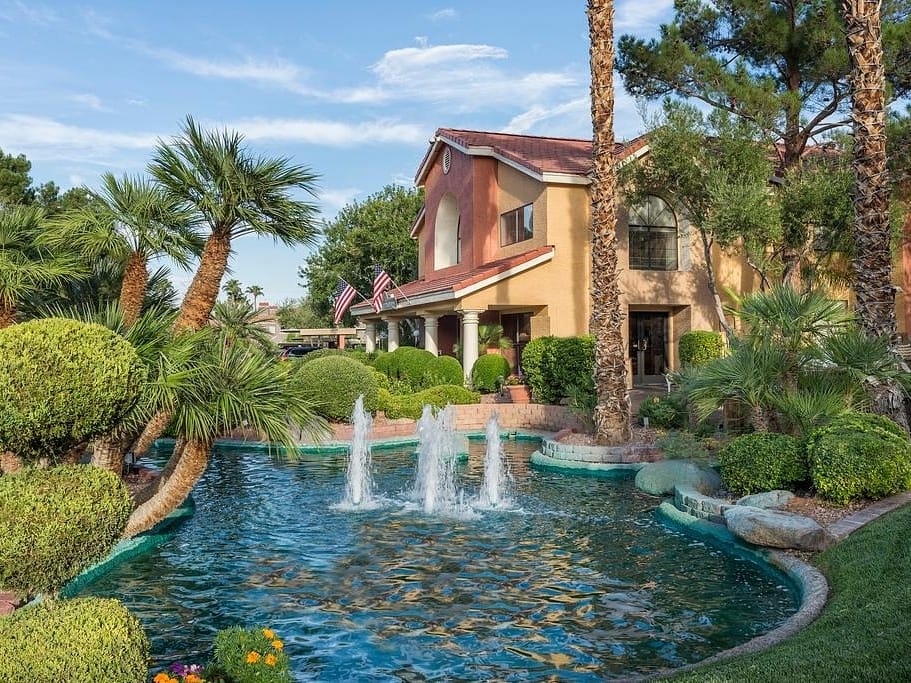 Vegas is too big for just one Westgate resort, adding the Westgate Flamingo Bay Resort to the top best Westgate resorts list. This resort is a vacation getaway like no other. If you want to feel like you're on a tropical island, but still minutes away from the exciting thrill of the Las Vegas Strip, this is the resort for you. Owners particularly love the comforts of a fully furnished home accompanied by the thrills and excitement of their stay.
Amenities at Flamingo Bay
This property features spacious accommodations that will make you feel right at home. One and two-bedroom villas include fully-equipped kitchens, queen sleeper sofas, living and dining room areas, as well as full bathrooms with jetted hot tubs. There are also plenty of family-friendly activities to partake in when you're not out exploring the Strip.
Heated outdoor pool
Hot tub
Marketplace
Basketball
Fitness center
Playground
Game room
Horseshoes
Mini golf
Outdoor chess
Shuffleboard
Tennis
Westgate South Beach Oceanfront Resort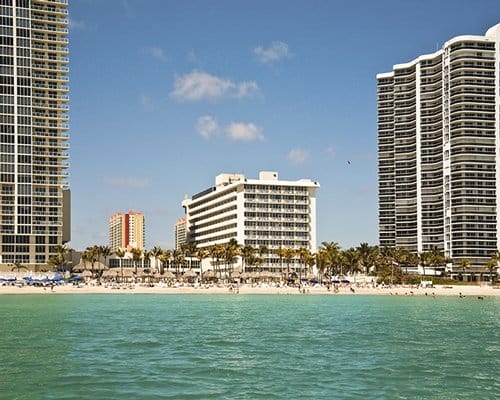 Miami is known for its vibrant nightlife and beautiful white sand beaches, so why not be in the middle of all the action? The Westgate South Beach Oceanfront Resort is a place like no other. This resort has private beach access, a heated outdoor pool, private cabanas, a volleyball court, a playground, and fire pits. All of this and more makes this vacation spot perfect to get the full Miami experience while receiving the comfort of home that you get with all of the best Westgate resorts.
Buy South Beach Oceanfront Resort
Miami is one of the most famous beach cities in the world, blending urban, art deco, and luxurious beach lifestyles into one city. You can never run out of things to do in Miami with all of the fine dining and shopping experiences. Take a look at Westgate South Beach Oceanfront Resort timeshares for sale.
Westgate Myrtle Beach Oceanfront Resort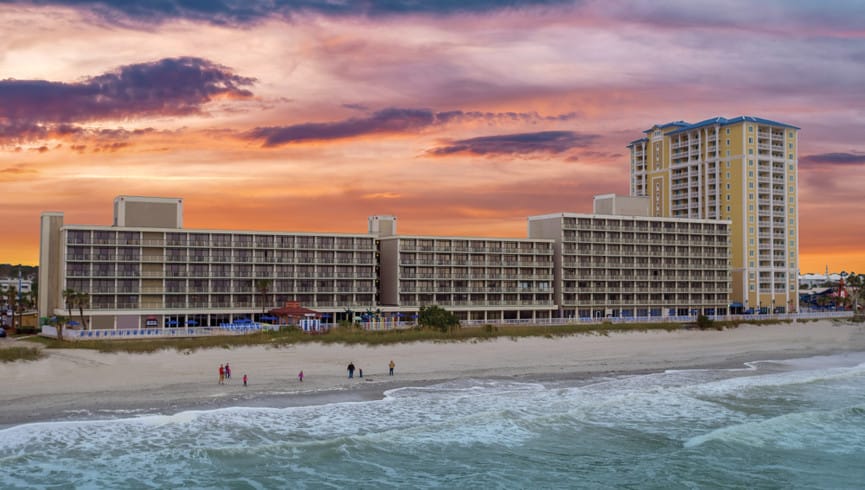 If Florida beaches aren't your thing, take a trip to Myrtle Beach in South Carolina for a stunning oceanfront resort overlooking the Atlantic Ocean. What's more, the Westgate Myrtle Beach Oceanfront Resort is a spectacular full-service resort that provides fun for all ages. Owners rave about the relaxing lazy river and the proximity to the Myrtle Beach Boardwalk, which creates a fun and unforgettable experience.
Amenities
Enjoy beachfront access to the Grand Strand when you stay at the Myrtle Beach Oceanfront Resort. Multiple pools on the property will also keep you cool when the waves seem too rough. You won't have to go too far when you need a bite to eat because there are four on-site bars and dining spots on-site for your convenience.
Two restaurants
Poolside bar
Marketplace
Free waterpark access at Family Kingdom Amusement park
Outdoor pool
Lap pool
Lazy river
Housekeeping
Business center
Concierge
Kid's pool
Westgate Myrtle Beach Oceanfront Timeshares for Sale
If you love Westgate properties and all of the amenities that make them so great, take a look at Westgate Myrtle Beach Oceanfront timeshares for sale on our marketplace. If you decide to make an offer, we can recommend our Preferred Real Estate Brokerage to assist verify ownership as well as close the sale.
Westgate River Ranch Resort & Rodeo
For something completely unique, exciting, and fun, the Westgate River Ranch Resort & Rodeo between Orlando and Tampa will blow you away. As glamping takes on timeshare, owners here love to reconnect with nature, pet the farm animals, and head to the rodeo for entertaining shows.
Unique Accommodations at River Ranch
Accommodations can increasingly bring you closer and closer to a true outdoor camping experience. Stay in cabins or cottages for a more traditional (but still rustic) experience, or check out some of the more unique accommodations that make River Ranch one of the best Westgate resorts. Luxurious Conestoga Wagons bring guests back to the 1800s when this was the only means of cargo and transportation. Or, choose a luxury teepee featuring a porch with rocking chairs, air conditioning, and all of the traditional resort comforts. Finally, visitors can also choose the luxury glamping option to stay in decked-out tents that even have their own portable air conditioning.
River Ranch Timeshares for Sale
Don't let incredible experiences here pass you by every year. The River Ranch Resort & Rodeo is the perfect place to unwind, enjoy the great outdoors, and have family fun with the entertainment each night at the rodeo. Browse River Ranch timeshares for sale by owner today.
Westgate Lakes Resort & Spa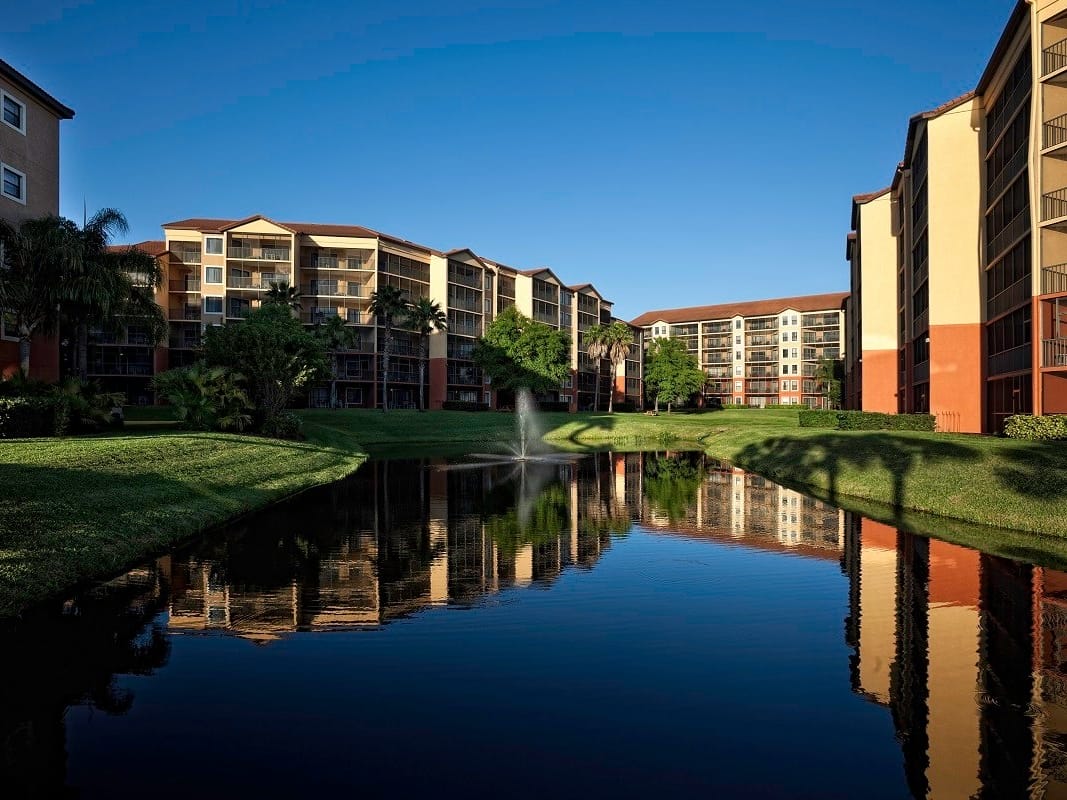 Last but certainly not least, the Westgate Lakes Resort & Spa in Orlando is iconic. This lakefront property is a full-service resort with everything you would expect at an Orlando resort. Walt Disney World theme parks are just seven minutes away, and Universal Orlando is only a four-minute drive away. However, you'll definitely want to spend a day or two on-site exploring the waterpark, spa, and restaurants.
Amenities
As one of the best Westgate resorts, you'll have all of the comforts of home while you're on vacation, plus more. With an on-site water park, heated swimming pools, sports courts, mini-golf, as well as restaurants and cafes, you'll love your stay at the Westgate Lakes Resort & Spa.
Two restaurants
Two delis
Three poolside bars
Concierge
Disney Planning Center
Kid's Club/babysitting
Business Center
Seven outdoor heated pools
Seven children's pools
Six hot tubs
Bbq grills
Basketball courts
Horseshoes
Kayaks
Marina
Game room
Mini golf
Playgrounds
Pontoon boats
Tennis courts
Volleyball courts
Shuffleboard
Zumba & yoga classes
Juice bar
Fitness center
Spa
Westgate Lakes Resort & Spa Timeshares for Sale
There's no reason why you wouldn't want to come back to this resort year after year. Bring the entire family to make lifelong vacation memories on a luxurious vacation in Orlando. With a resale, you can even spend less on timeshares here. Browse our Westgate Lakes Resort & Spa timeshares for sale and make an offer online.
Which Westgate Resort is the Best?
There is something for everyone with a Westgate timeshare. Unique and desirable locations, exciting experiences, comfortable accommodations, and more will change the way you vacation forever. So which Westgate resort is the best to buy? It all depends on your vacation preferences and how you like to unwind! Keep in mind timeshares are not investments, so you should buy the one that you will use every year. In fact, many owners live within the same state or nearby their Westgate resort to get the most use out of it.
Westgate Resorts Timeshare For Sale and Rent
Looking to buy a timeshare from the Top 10 Westgate Resorts list? Browse our Westgate timeshares for sale on our resale marketplace, where you can find great deals and even vacation rentals. If you have any questions, feel free to give us a call at 1-800-610-2734 or email us at info@timesharesonly.com.
What if I Want to Sell or Rent Out My Timeshare?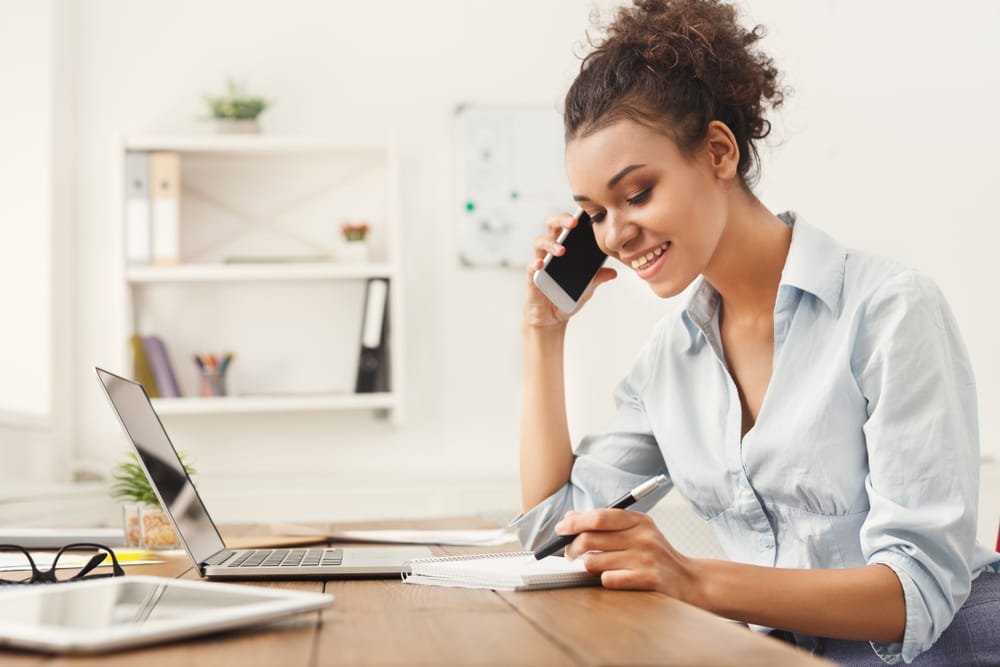 While the best Westgate resorts have a lot to love, there may come a time when you no longer use it. Maybe you just aren't interested in visiting for a year, or maybe you find you don't need it at all. Fortunately, you have options! If you still want to use your timeshare but just aren't interested in using it for a year or two, consider renting out your timeshare. Here at TSO, we can work with you to put together a listing that will attract people interested in visiting your timeshare. You'll be able to put some extra money in your pocket and help pay off your maintenance fees. Plus, you won't have to feel like you've wasted your timeshare. We'll also work with you to put together a listing to sell your timeshare.
Working with Timeshares Only means you'll be working with a company that has over 25 years of experience helping timeshare owners just like you. So you can rest assured we have the industry experience to give you top-notch service. We're also a member of ARDA, the American Resort Development Association. As a result, we have to follow a strict set of rules and regulations that help keep everyone in the industry safe. When it comes to selling or renting out your timeshare, it doesn't get better than Timeshares Only.