Rich in biodiversity and home to the largest variety of wildflowers in the United States, the Great Smoky Mountains are an ecological treasure. They are truly a hidden gem, offering unexpected beauty and wonder to those who take the time to explore them. Renting or buying a timeshare in the area is an excellent way to explore its natural beauty. In addition, Wyndham Smoky Mountains is the place to stay. Read on to learn about Wyndham Vacation Resorts Great Smokies Lodge's accommodations, amenities, and things to do nearby in Pigeon Forge.
Wyndham Smoky Mountains Accommodations
Four different suite sizes are available at Wyndham Smoky Mountains, ranging from one bedroom to four bedrooms. Families, solo travelers, and large groups can all benefit from this. The one-bedroom suites can accommodate four guests, the two-bedroom suites can sleep eight guests, the three-bedroom suites can house 10 guests, and the four-bedroom suites can sleep 14 guests. With a variety of suite sizes, Wyndham Smoky Mountains can accommodate groups of any size, from a couple looking for a romantic getaway to a large family reunion.
The suites are designed to provide guests with all the amenities they need while still providing plenty of space to relax and enjoy their stay. With a mini kitchen in the one-bedroom suites and full kitchens in two bedrooms and up, these modern suites accommodate both short-term and long-term stays, offering the perfect balance of comfort and convenience. In addition, having a designated living area within the timeshare gives you the opportunity to have some personal space away from everyone in your party. So, it is a great place to relax, unwind and recharge after a long day. To sum it up, suites like these are unlike anything you have ever seen.
Read More: Tennessee Resorts In the Mountains, Cities and Beyond
Wyndham Smoky Mountains Amenities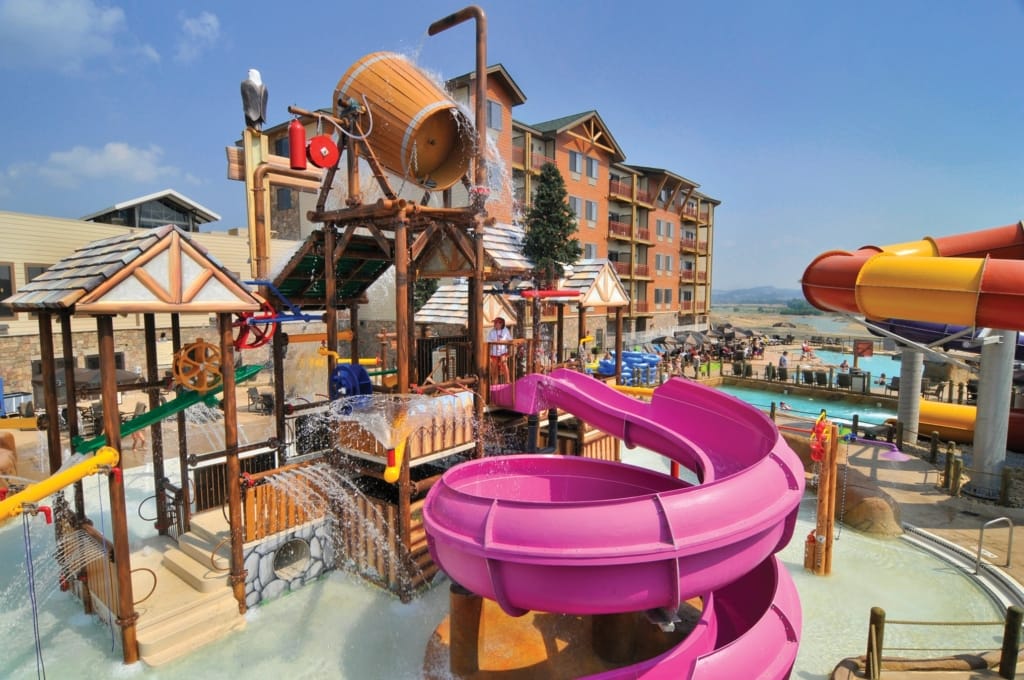 Every Wyndham resort offers excellent amenities, so you can rest assured that you will have a fun stay. The activities center is a really cool feature since you can try something completely different every time. The activities center is the perfect place to start to get the most out of your trip. It is constantly evolving to bring new and exciting activities to the table. There is an indoor and outdoor pool on-site, so you won't have to worry about canceling your pool day if the weather turns bad. In addition, if you love a little competition, play a round of mini golf or head to the game room for some fun arcade games.
Among the amenities at Wyndham Smoky Mountains are:
Activities Center
Arcade Games
Barbecue Area
Children's Playground
Swimming Pools
Concierge Services
Conference Room
Fire Pit
Fitness Center
Game Room
Live Entertainment
Miniature Golf
Sauna
Water Park
Sunbathing Area
The Great Smoky Mountains
North Carolina and Tennessee's Great Smoky Mountains National Park was established in 1926 and is comprised of ridges of forest that seem to go on forever. The park boasts a wide range of diverse wildlife and plant species, providing visitors with a stunning natural landscape to explore. The Great Smoky Mountains National Park serves as a major tourist attraction for people from all over the world, offering a variety of activities such as hiking, camping, and fishing. The oldest rocks in the Great Smoky Mountains were formed during the Proterozoic Era, some 800-545 million years ago. So the park also has a rich cultural history, with nearly 80 historic buildings located throughout the mountain range.
Additionally, Pigeon Forge offers a unique blend of activities, with something to suit everyone's tastes – from those looking for a peaceful retreat to those looking for a more thrilling experience. Whether you want to relax and soak up the atmosphere or be entertained by a top-notch show, Pigeon Forge is sure to deliver. We have a whole blog dedicated to what to do when you are in Pigeon Forge; check out 12 Things to Do in Pigeon Forge and Places to Stay for more details.
Rent or Buy a Timeshare in Pigeon Forge
Now that you know about Wyndham Smoky Mountains, you might be ready to buy a timeshare here. We make it easy to find a timeshare for sale at a lower rate than buying directly. Start by browsing our marketplace of Wyndham Smoky Mountain for sale. Then make an offer on the one for you.
If you aren't ready to fully buy, renting a timeshare is the best way to try before you buy. Our timeshare rentals are an incredible steal. All you need to do to reserve a timeshare for rent at Wyndham Smoky Mountains is enter in payment details and then wait to hear from our team. Regardless we are here to help! Give us a call today at 1 (800) 610-2734 for any assistance.