If you're looking for a vacation in the country, the state of Missouri is a strong pick. Missouri is home to plenty of state parks, incredible live country music, and of course, Silver Dollar City. Of course, while planning out where you want to go is important, it's just as essential to figure out where you'll be staying. Fortunately, we're here to make that part easier! If you're visiting the Show-Me State, you can't go wrong with Club Wyndham Branson at the Meadows. Read on to find out why this resort is the perfect base for your next vacation.
Amenities at Club Wyndham Branson at the Meadows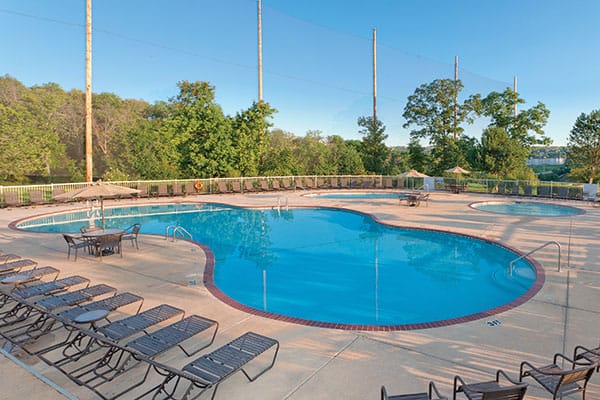 At Club Wyndham Branson at the Meadows, luxury is the name of the game. The resort is home to five indoor and outdoor swimming pools to dip into. Plus, there are two hot tubs you can soak in to unwind. There are also two children's pools for the little ones to enjoy. Speaking of the little ones, they can have fun at the game room, basketball courts, and playground. If you want to stay active while on vacation, then check out the fully-equipped fitness center. Want to cook your own meals? This resort features a barbecue area so you can grill up any meat of your choosing. Finally, you can unwind at the on-site spa to work out the knots after an adventurous day.
Accommodations at Club Wyndham Branson at the Meadows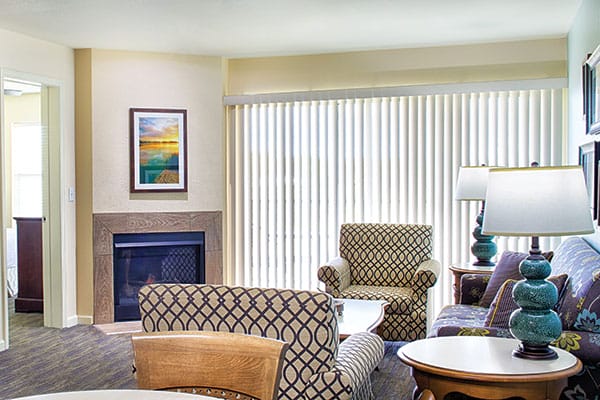 Of course, the most important part of a resort is accommodations. Fortunately, Club Wyndham Branson at the Meadows has suites that are comfy and spacious. Guests have their choice of one, two, three, or four-bedroom suites. First, one-bedroom suites come with a king-sized bed and queen-sized sleeper sofa to accommodate four guests. Next, two-bedroom suites feature a king-sized bed, two double beds, and a queen-sized sleeper sofa. These suites can accommodate up to eight guests. Meanwhile, the three-bedroom suites offer the same accommodations as a two-bedroom suite, along with over 400 extra square feet of space. The three-bedroom can house up to ten guests. Finally, the four-bedroom suites boast three king-sized beds and two double beds to house a whopping ten guests. It's safe to say that you'll never have to worry about space at this resort.
Things to Do Near Club Wyndham Branson at the Meadows
While you may feel comfy at the Club Wyndham Branson at the Meadows, eventually, you'll want to explore Missouri. When that happens, you can rest assured that you'll find plenty of things to do nearby. In fact, one of this resort's greatest strengths is its close proximity to many great attractions. Here are just a few of the things you can do near the resort.
Enjoy Dinner and a Show at Dolly Parton's Stampede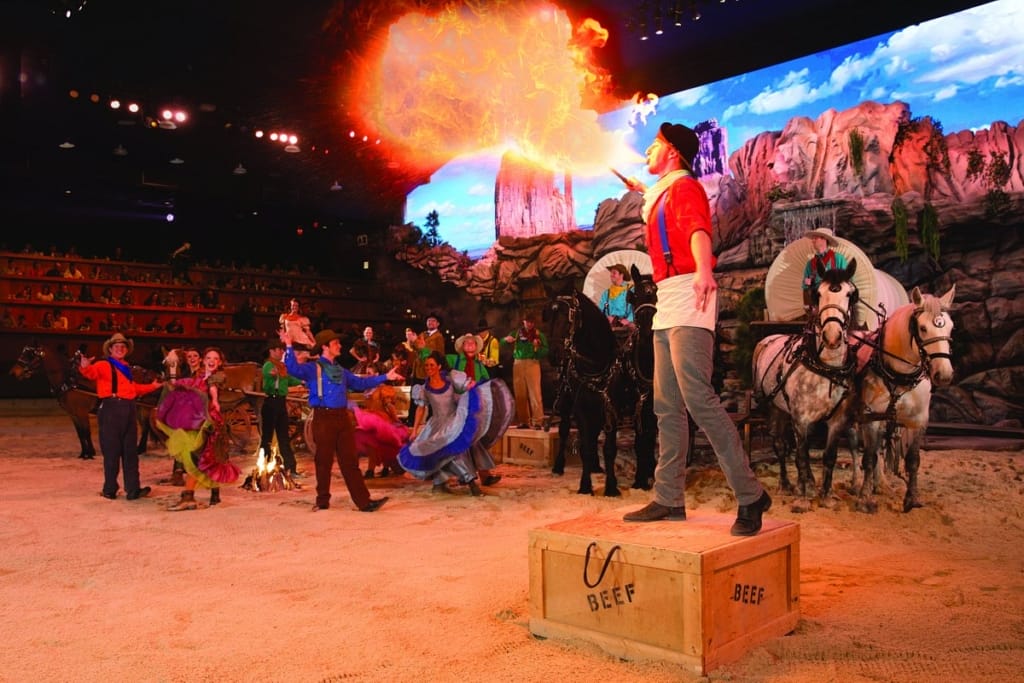 If you're looking for the show of a lifetime, you have to check out Dolly Parton's Stampede. Located just five miles from the Club Wyndham Branson at the Meadows, Stampede is set in a massive, 35,000-square-foot arena. The show features 32 horses alongside stunning special effects, phenomenal music, and high-speed horseback riding stunts. Plus, while you enjoy the show, you'll be able to dine on a mouth-watering four-course family feast. The feast comes with pork loin, biscuits, corn on the cob, and even a whole rotisserie chicken. Additionally, you can order vegetarian or gluten-free options. So there's something for just about everyone at Stampede! If you arrive before the show, you can even get up close and personal with the horses through the world-famous Horse Walk. In short, Dolly Parton's Stampede isn't just a show, it's an experience. 
Explore Silver Dollar City
Hoping for an adventure? Then be sure to visit Silver Dollar City. This amusement park is only eight miles away from Club Wyndham Branson at the Meadows. 40 rides and attractions are here for you to enjoy. From thrilling roller coasters to gentle children's coasters and even a handful of water rides, you can rest assured there's plenty of variety at the park. Some of the highlights include Wildfire, Outlaw Run, and Time Traveler. Aside from the rides, Silver Dollar City is home to 40 live shows performed daily. These shows range from celebrity concerts to magic acts. It's safe to say there's always something new to see. Yet what really sets Silver Dollar City apart from other theme parks is the demonstrating craftsmen. You can watch woodworkers carve life-like wooden figures or marvel at candy makers crafting delicious treats right before your eyes. 
Enjoy the Great Outdoors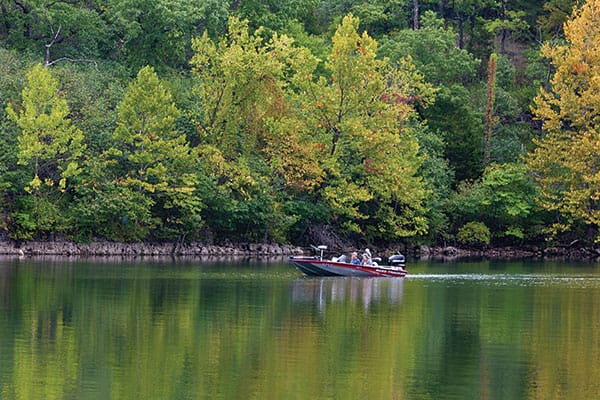 While the other attractions are great, the main attraction of the Ozarks is the outdoors. There are over 200 miles of trails to explore, all of which are just a short drive away from Club Wyndham Branson at the Meadows. You can bike or hike to scenic vistas with gorgeous waterfalls and calming lakes. If you'd like to admire a beautiful waterfall, swing by the Lakeside Forest Trails. These trails wind through 315 hand-lain stone steps to the Grotto, a partial dome carved into the side of the bluff above Lake Taneycomo. On the other hand, if you'd like to enjoy a peaceful day of fishing, visit Table Rock Lake. Known as a popular spot for bass fishing tournaments, this lake is one of the best fishing destinations in Missouri. Table Rock Lake is also near Moonshine Beach, where you can swim, sunbathe, picnic, or play volleyball.
Buy or Rent a Timeshare at Wyndham Branson at the Meadows
From its convenient location to its fantastic amenities, there's plenty to love about Wyndham Branson at the Meadows. If you'd like to visit the Missouri countryside, consider buying a timeshare there. Timeshares are a great way to make sure you can keep coming back to a destination you love. Plus, if you plan to return year after year, they can help save you money in the long run. If you'd like to visit Branson but are a little put off by the sticker price, consider renting a timeshare instead. You'll still be able to enjoy the resort without worrying about breaking the bank. Whichever you choose, if you'd like a timeshare, then check out our marketplace! At TSO we have listings not just for this resort, but plenty of others in the Wyndham family. Call us at 1-800-610-2734 or email us at info@timesharesonly.com if you have any questions.