Club Wyndham Access is a type of ownership within the Wyndham timeshare ownership program. This special ownership provides different perks to owners, including advanced reservation priority. As with most timeshare resales, there are restrictions when Club Wyndham Access points are bought on the secondary market. To learn more about Club Wyndham Access, its restrictions, and resorts, keep reading.
About Wyndham
Wyndham is one of the most popular timeshare vacation clubs. In fact, it's the largest ownership brand in the world. With over 200 resorts in more than 100 countries, there are so many possibilities for Wyndham timeshare owners. The brand's nearly 4 million owners know that the perks and benefits are what make Wyndham timeshares worth it. Not to mention, owners experience luxury amenities and spacious accommodations when staying at its resorts. One of its ownership programs, Club Wyndham Access, gives owners unmatched flexibility.
What Is Club Wyndham Access?
Club Wyndham Access is a points-based timeshare ownership program that allows owners to choose exactly how they want to vacation. Since this is a strictly points-based timeshare, owners aren't tied to a deed at a specific resort. Each year, owners will receive the number of points that they initially purchased when buying their timeshare to use for booking resort stays. They can use these points at any one of its resorts. This freedom to choose which resort you want to stay at is a great way to travel the world! Wyndham also owns RCI, the world's largest vacation exchange network, which can take your travels to over 4,000 resorts worldwide.
A big perk of Club Wyndham Access is being able to reserve resort stays in advance. The Advance Reservation Priority window is 10-13 months prior to check-in. This means that Club Wyndham Access members can book trips more than a year before their stay. This also means that they will have a better chance of booking the exact vacation they desire. If you're looking to stay at a Club Wyndham resort outside of the Access resort list, you can still make reservations up to 10 months in advance. Other benefits for owners include banking and borrowing points. This means that you can save this year's points for next year's allotment or you can take some from next year for this year's allotment.
Maintenance Fees
When it comes to maintenance fees, Club Wyndham Access is a little different than a traditional timeshare's fees. Since owners aren't on a deed to a specific resort, they pay a "blended maintenance fee." Fees and expenses of its entire inventory are combined and then divvied out based on how many points you own.
Club Wyndham Access Resale Restrictions
As with most timeshare resale, there are restrictions when you buy Club Wyndham Access points on the secondary market. The most notable restriction is that when you buy Wyndham points resale, they will not count towards reaching VIP status, which includes member benefits such as exclusive discounts on last-minute trips. If these types of perks aren't important to you, then the benefits of buying points resale might outweigh the cons of these restrictions. Buying on the resale market can save you hundreds, maybe even thousands, of dollars!
Learn More: Wyndham Timeshare Resale Restrictions
Club Wyndham Access Resorts
One of the most important things to consider when buying a timeshare is what you're looking for in a resort. With Club Wyndham Access resorts, owners will experience amazing amenities and all of the comforts of home right in their timeshare villa. There are dozens of resorts to choose from, so you are bound to find a resort in the destination you want to travel to next. Here are some of our favorite resorts.
Wyndham Bonnet Creek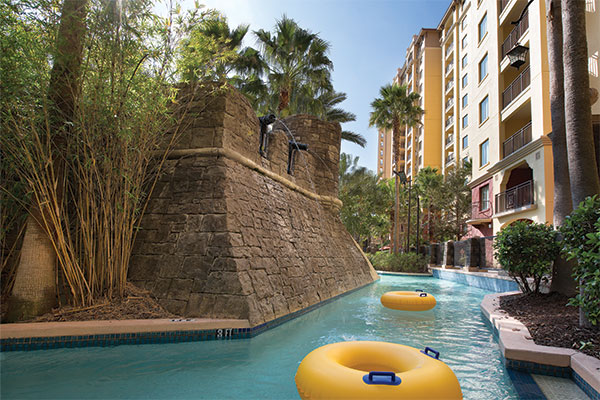 Wyndham Bonnet Creek Resort is as close as you can get to Walt Disney World in Orlando without actually staying on the property. This is a great option for Club Wyndham Access owners who are planning a Disney World Vacation. On the days that you aren't visiting Disney's theme parks, you'll enjoy all of the incredible amenities at Bonnet Creek. Some of the most exciting amenities include the resort's lazy rivers, waterslides, and poolside bars. This resort offers one-, two-, three-, and four-bedroom timeshare suites that include full kitchens and plenty of living space for the whole family.
Wyndham SeaWatch Resort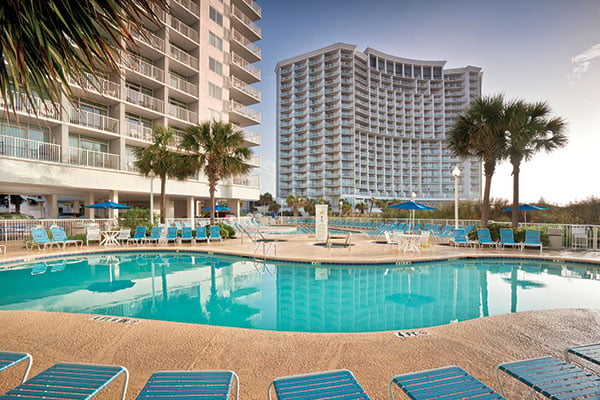 Wyndham SeaWatch Resort is an oceanfront resort in scenic Myrtle Beach, South Carolina. This resort's convenient location puts you right in the middle of the fun that Myrtle Beach is known for. You're just minutes away from a fun night on the boardwalk, delicious restaurants, and challenging golf courses. SeaWatch Resort has five pools for those hot summer days and two indoor pools for the chillier days of the winter months. Myrtle Beach's sandy shores are beautiful year-round, and at SeaWatch Resort, the beach is right outside your doorstep.
Wyndham Grand Desert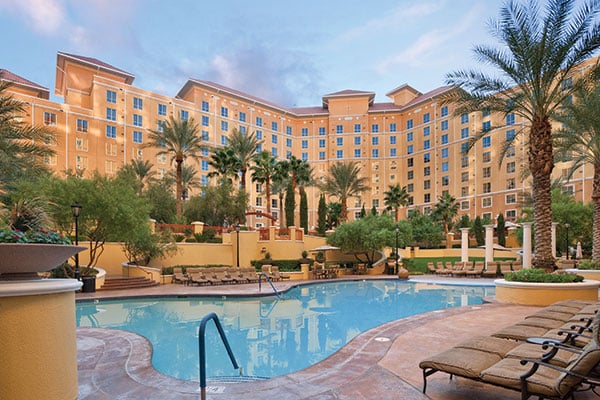 Wyndham Grand Desert is a quiet oasis just one mile from the world-famous Las Vegas Strip. When you want to immerse yourself in the glitz and glam that Las Vegas has to offer, you'll be just minutes away when you stay at Grand Desert. If you want to relax and get away from all of the excitement, this Wyndham Club Access resort is the perfect place to be. This lush resort's grounds are packed with relaxing amenities like pools, hot tubs, and even a day spa! Guests will also feel totally relaxed in their one- or two-bedroom suites, complete with private bedrooms and even a whirlpool tub.
Wyndham Anaheim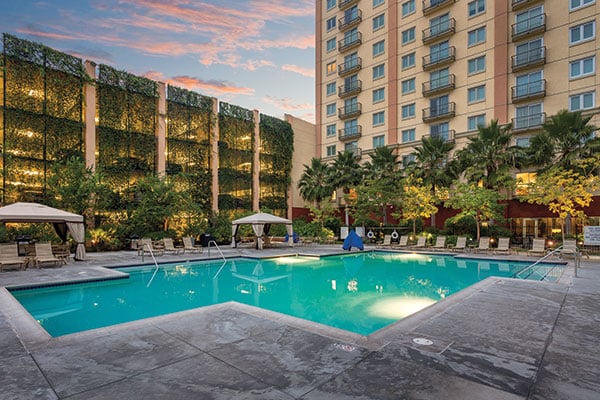 Club Wyndham Anaheim is just around the corner from California's Disneyland. If you're looking for a little Disney magic while visiting the West Coast, this is the perfect resort for you. This resort is also a cheaper Disney timeshare vacation option than the DVC resort there. If you're not a Disney lover, there is still plenty to do in the area, including visiting other theme parks and catching a game at Anaheim's baseball stadium. When you're ready to relax after a long day exploring Anaheim, the perfect place to unwind is in the resort's rooftop hot tubs.
Buy Wyndham Timeshare Resale
Are you ready to experience the excitement of traveling the world with Club Wyndham Access points? If so, you've come to the right place! Firstly, browse our selection of Club Wyndham Access points for sale. Then, when you've found the best ownership for you, simply make an offer! Don't worry if you have questions because Timeshares Only is here to help! Our team of timeshare experts has the connections and experience to make this process seamless, so contact us! Call 1(800) 213-7733 today!